So, you got yourself a kayak. You see, a kayak is more than just a vessel used for photo ops in serene backgrounds. It is more than just paddling into the deeper ends of the lake so you can take a photo of yourself amidst a beautiful body of water. Owning a kayak is also an obligation.
Here, we talk about one of the things that come with owning a kayak. We talk about how to store a kayak properly, as doing so ensures it stays with you for a long time.
So before you head to the store to pick up your kayak, here are a few things you need to know.
Ready? Let's get started!

Kayak Storage Ideas | How to Store a Kayak Properly
Storing a kayak goes beyond just putting it inside your shed. In this section, we share with you a few great ideas on how you can safely and properly store these beauties.
Proper storage ensures they don't get easily scratched, dented, or deformed in any way. Also, when they are properly stored, they don't get to become dwellings to spiders, ants, lizards, and a lot more of those creepy, crawling creatures (sorry ants!).
Anyway, brace yourselves. Here are ways by which you can store your kayaks at home.
Read more about Reducing Back Pain Caused by Kayaking
Kayak Storage Shed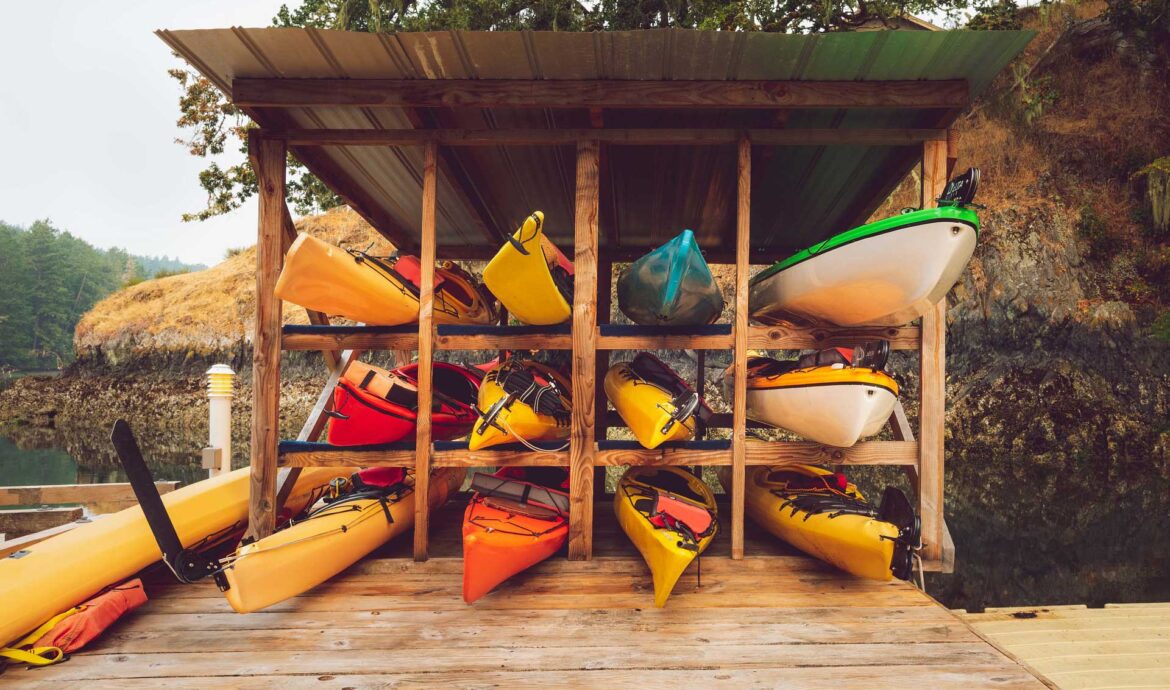 One of the most common ways to properly store kayaks is to keep them safe in sheds. And because sheds can be dank and dark, moisture can get inside your kayak and keep everything musty.
Also, the shed being dark, rodents can easily find comfort in your kayak and make it their home.
To avoid these and more, one of the things to do is to get rid of fabric seating or compartments. Keep these separately. This is because anything that is made of fabric can easily be penetrated by bugs or rodents.
The kayak should be off the ground. There are racks designed for these, which we will discuss later.
Too much sunlight can destroy your kayak's exterior. Protect your kayak from too much exposure.
When storing inside a shed, you need two wooden planks. These planks, placed on the ground, should be close to the wall.
Make sure that when storing the plank, the weight is distributed evenly on each plank.
And finally, make sure to secure the kayak in a stable structure. For example, locking your kayak to a garage, a door, or a stable wall can provide you with an assurance that nobody gets to run away with your new toy.
Outside Freestanding Kayak Rack to Store Properly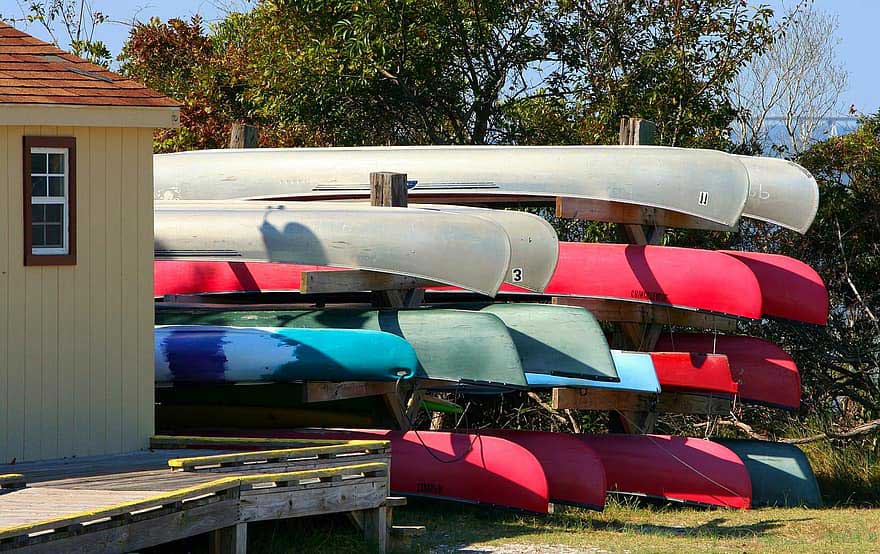 Another way by which you can store your kayak is through a freestanding kayak rack.
Racks are amazing. Aside from them being easy to set up, the great thing about racks is that they're portable. You can effortlessly bring them anywhere, whether you need it for storage while on your vacation home by the beach or at your cabin by the lake.
There are three kinds of racks – the Malone 6 kayak rack system, the 2-kayak rack, and the freestanding kayak rack.
First off, the Malone 6 is just too much, unless you have 6 kayaks at home to store. The 2-kayak rack is small. This brings us to the final option, which is the freestanding kayak rack.
A freestanding kayak rack is a great option for the reason that you can easily adjust the distance between each rack.
Not only is this limited to two racks, but this can be customized to be able to house as much as four to six racks. The difference between the freestanding rack and the Malone 6 is that with a freestanding rack, you can easily adjust the distance between each rack.
When storing using this method, remember to always tilt the kayak. Either that or you position the kayak upside down.
Store a kayak in Garage Properly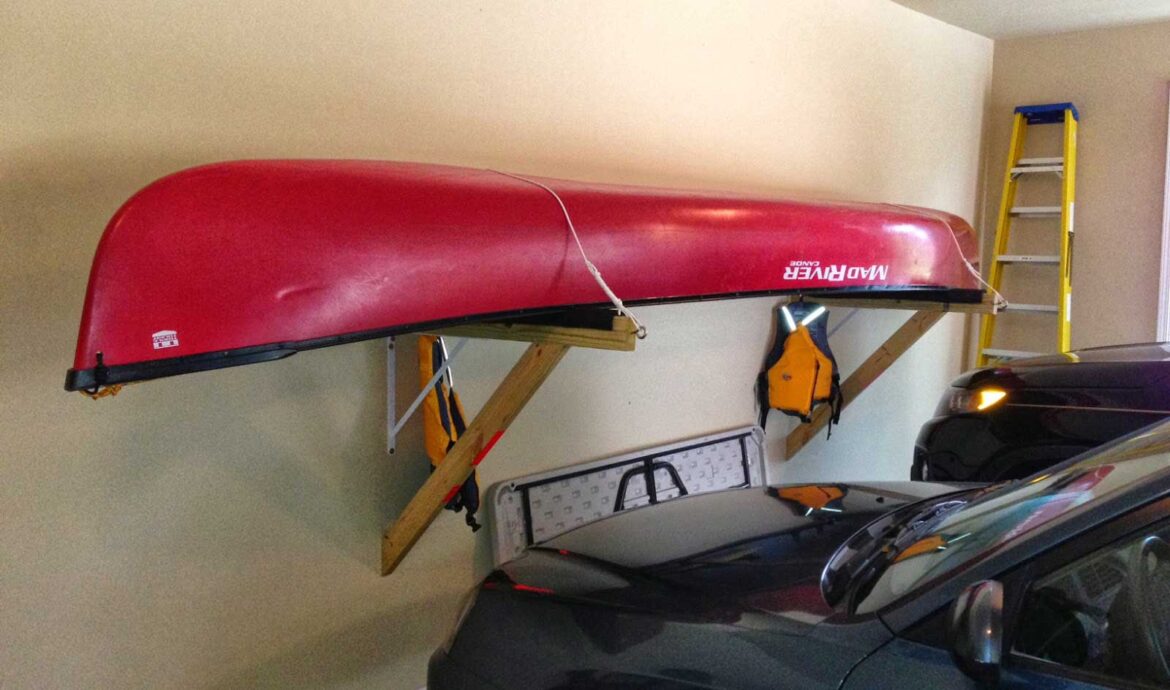 There is a multitude of garage kayak storage ideas. One of those is storing your kayak through a ceiling rack. A garage storage area also makes it possible for you to suspend or hang your kayak from the ceiling, something which we will discuss in detail later on.
The ceiling is not the only space you can store your kayaks in. Even the walls can be used for keeping your kayaks safe. When in a garage, take note of these few things:
Keep the kayak out of direct sunlight. Too much heat will warp the plastic. It will also result in the kayak's color to fade.
Speaking of heat, make sure that the kayak is stored far from any heat source. It will damage the material the kayak is made of.
While out of direct sunlight, it should never be stored in a very cold part of the garage, either. The ideal location should be in a cool and dry part of the garage.
You can wrap the kayak with a tarp prior to storing it. Just make sure that before it is wrapped, it is completely dry to avoid the kayak being musty.
Make sure that the kayak is balanced. When unbalanced and left for a long period of time, the kayak can become damaged. It can also be dented.
What is also beneficial in garage storage is that it keeps your kayaks protected from nature's elements. Whether it is rain, sleet, wind, or sun, you can rest assured that your kayak will be safe and sound for years to come.
Store a Kayak Properly with Wall Stand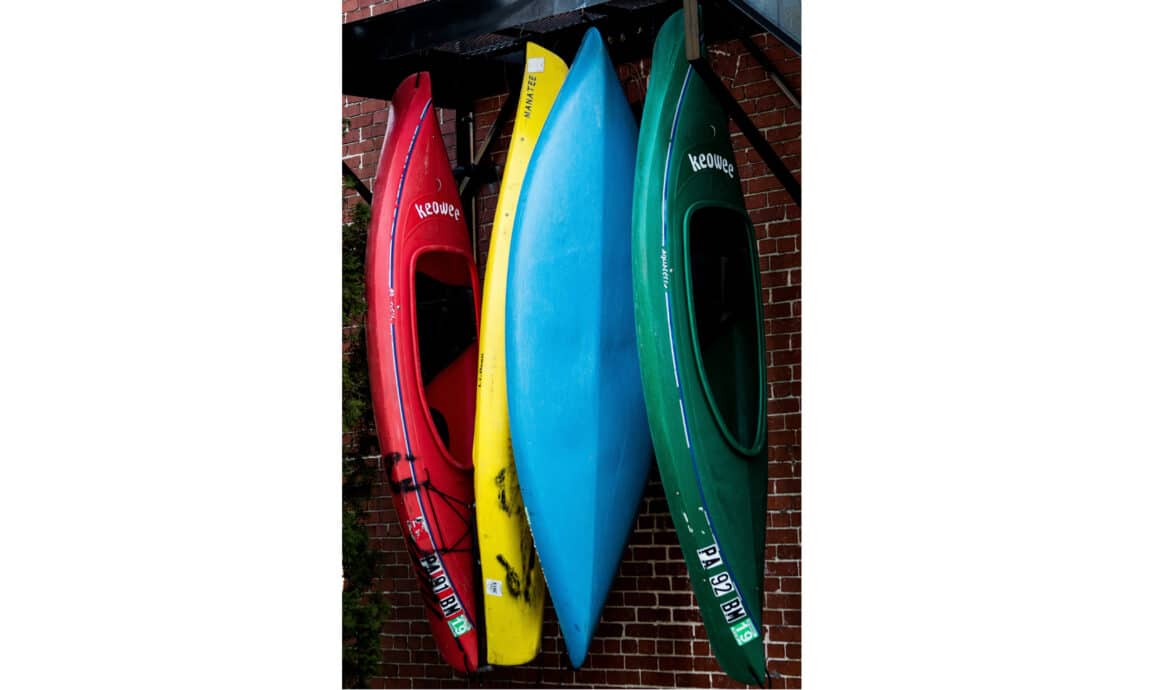 As earlier mentioned, kayaks can be stored by attaching them to walls. In this method, you make use of hook-style racks that are mounted to walls or anywhere you can bolt it in. Even fences, as long as it can hold the weight, can be suitable areas where you can store your kayaks.
When storing in walls, remember these few things:
Go for the sturdy wall. Because you would be required to use mounting storage systems that are attached to the walls, you need a wall that is sturdy to carry the weight. Plywood and drywall are not advisable. They will fail you, for sure.
Use a rope or bracket-style storage. The rope system is when a rope is attached to the wall. This rope is then used in wrapping the kayak, preventing it from falling. When using the bracket-style system, make sure this is installed correctly to the wall. It should support the kayak through its brackets.
The storage system is another manner to store the kayak on walls. When you have purchased a storage system, just follow its instructions. Each brand has varying installation directions.
You can also hang the kayak on its side. When doing this, make sure to tilt the kayak. It should also be facing out.
Store a Kayak Properly with Ceiling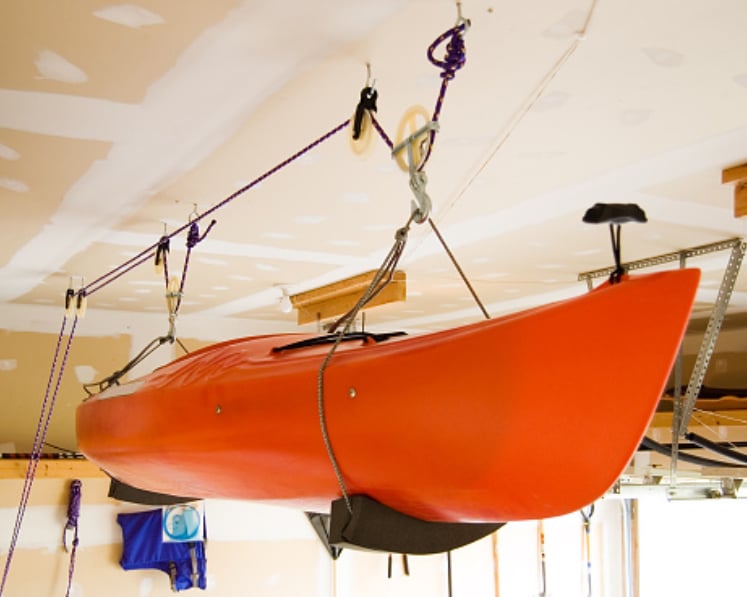 Hanging your kayaks from the ceiling is another way to store them. One advantage is that it is out of your way and saves you a lot of space. Here are a few important things to know:
Option one should be to store your kayaks through ceiling racks. In this manner, a rack is attached to the ceiling, the rack of which can hold as much as two or more kayaks at one time. When storing kayaks through this mode, make sure to have the kayaks face down.
You can also store your kayak by having them hang or suspend from the ceiling. This manner of storing requires you to install a system such as a pulley hoist that makes storing easier. All you have to do is to fasten and secure the kayak. Pull the hoist and see the kayak move up the ceiling. Usually, brands can hold as much as 125lbs, which is way too much for a kayak to weigh anyway.
Another great option is storing the kayak through ceiling rafters. Drill a hole for the bolts. Screw an eye bolt into each of these holes. Hang a rope from these hooks; the rope of which will wrap the kayak and keep it secure while hanging from the ceiling.
If possible, do not hang the kayak from the ceiling for long. The stress it puts the kayak into will eventually damage the kayak in the long run.
Summary
We understand that kayaks can be bulky. And with most of us having limited space for such a big item at home, storing them is always a challenge.
But don't let that stop you from getting one. As long as you know of different ways on how to store a kayak properly, you will never have to worry about the kayak being dented or worse – damaged.