How does the thought of making accurate shots with your bow sound? Good enough? Then you are in luck because we will be exploring the solution for making accurate shots with your bow. Yes, you got the point; Here we are going to discuss the best bow sights for Hunting. We focus and make the in-depth top five bow sights reviews for your batter hunting experience.
Of course, you need some shooting skills with experience in the field, but a good bow sight would enhance the accuracy further. We will be looking at the best bow sights reviews, so you get to buy the right piece for your bow.
There are a couple of benefits of using bow sights, which we will explore too. At the end of this article, you will not only have an easy time finding the perfect bow sights, but you'll also know how to use and adjust one accordingly.

Benefits of Using Best Bow Sights for Hunting
Bow sights were first used in the 80s, and since then, most professionals attach them to their bows when they are hunting or target shooting. But why should you use them?
Enhances Accuracy: One of the main reasons for using bow sights is to increase your precision in the field. Whether you are target shooting or hunting, you are more likely to hit the target with the sight on your bow.
Boosts Your Body Alignment: When using a bow sight, you will be in a better chance of being consistent in your positioning and body posture — no more guessing with your shots.
Saves You Money: Yes, bow sights might be somewhat costly. However, buying more arrows can be costlier in the long run. If you are not accurate with your shots, you might end up losing arrows out in the woods. But a bow sight is there to help you make accurate shots, which in turn reduces the wastage of arrows.
They Pinpoint Your Target: Okay, so maybe you are already using a peep sight on your bow. But it isn't that accurate, is it? You bet. Nevertheless, a bow sight would help to hone in on the target with excellence.
Limits Human Error: It is normal that humans are prone to making an error. But with an accessory like a bow sight, you can be sure of limiting the chances of making those errors as you take shots with your bow.
A good bow sight will improve both your accuracy and technique.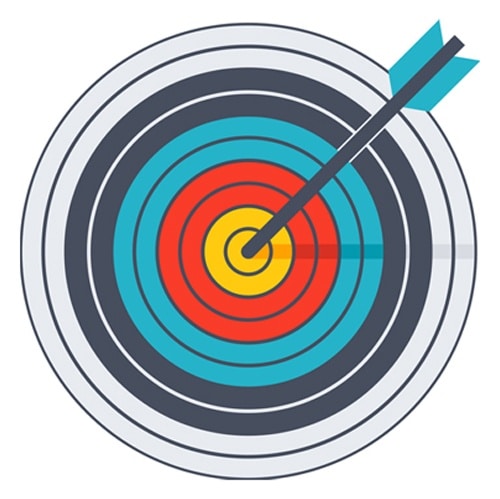 Types of Bow Sights
As you would expect, bow sights for hunting come in different types. Some are too basic and perfect for a beginner, while others are complex and best for the experienced archers. Generally, bow sights come in 5 different categories; single-pin, fixed-pin, digital, pendulum, and competition sights.
Single-Pin/Movable Sights: This sight comes with a sole pin that you can easily move with your hand. The single pin or movable bow sights come with a taped marking on the side, which offers settings of variable yardage. These sights tend to offer a clearer view since they don't come with pins in the way you aim at your target. Some hunters prefer them due to that feature.
Fixed Pin Sights: The fixed pin bow sights are the most popular of the five sights out there. They can come with horizontal or vertical pins. With the fixed pin sights, they don't need any adjustment for individual yardage like the single pin sights. In other words, you will spend less time adjusting the fixed pin bow sights while out in the field. What you will be needed to do is adjust the multiple pins for the 3 to 7 yardages ahead of time. You'll need a tool to make these adjustments. I'd recommend the fixed pin bow sights to the archers going after moving targets. This is because the different distances are already set.
Digital Bow Sights: These sights come in at a heftier price tag than fixed and single pin sights. As you'll expect, they are new to the market, and they come with lights that are installed in the sight. This light will offer dots and crosshairs that are like those of a rifle scope. You can find digital bow sights with a rangefinder fitted on them. This way, you can know the exact distance automatically. We'd recommend the digital bow sights for veteran archers as they can be a little complex to a beginner.
Pendulum/Treestand Bow Sights: If you are the type of hunter that parks in a tree stand as you wait to take the killer shot, this type of sight would be a good pick for you. With the pendulum sight, you can aim down at your kill. The pin comes hooked onto a pendulum, which will swing out to better the accuracy at the tight angles.
Competition Bow Sights: Out of all the types of bow sights, the competition sights are the most expensive. As the name suggests, they are meant for competition shooting. These sights come with multiple adjustments and micro-adjustments on each axis. Plus, they will come with features that enhance the accuracy of the shots even in harsh weather and high winds.
They are specifically meant for competition shootings.
Here you can go, If you are also looking for the Best Compound Bow for Beginners. For the professional hunters, we have also as well researched review on best ladder stand for bowhunting. Hope you will find some useful things from there too.
Best Bow Sights: Top 5 Bow sights reviews in-depth
Now you have an idea of the different bow sights out there and why it's worth purchasing them. That being said, here is a look at the top models that you might want to consider buying for your crossbow or compound bow.
01. HHA Optimizer Sight 5519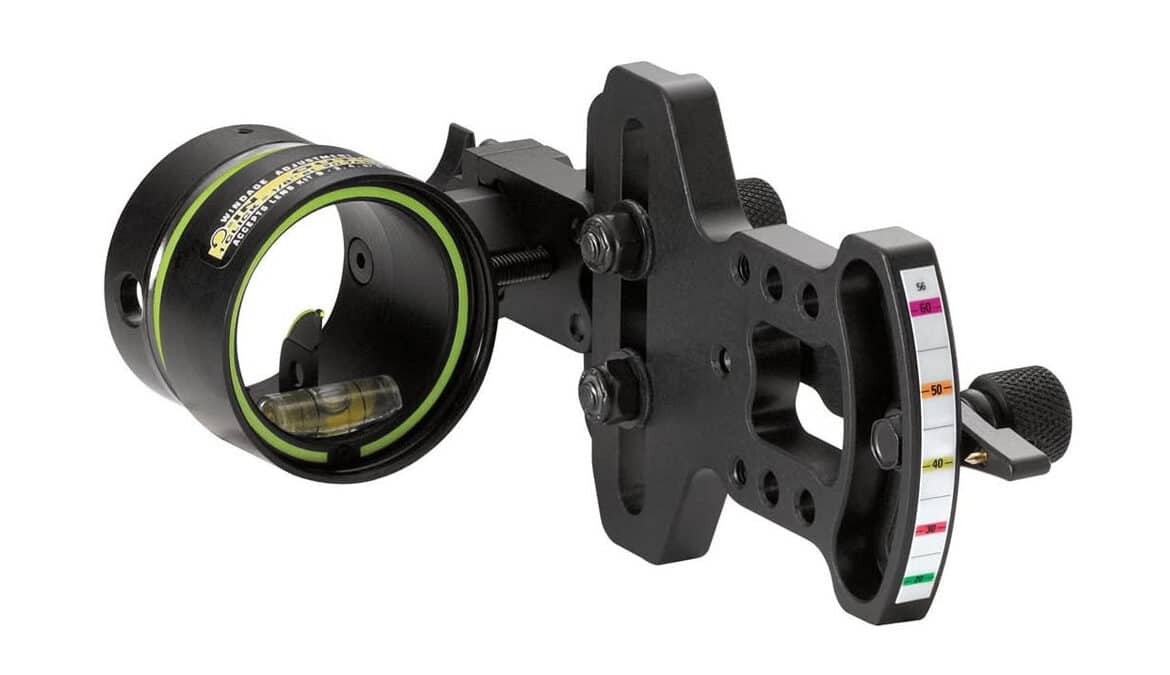 One major aspect that makes this sight a top pick is the adjustability and its performance in low lit conditions. We also consider this the best vertical pin bow sight from our selections.
This single pin sight is made of strong aluminum construction, and it comes with an Armor pin enclosed in a 1-5/8-inch sight housing and a wrapped fiber optic. Adjusting the windage is easy, and you can do it without the need for a tool.
Furthermore, this sight comes with a green sight ring that lets you acquire your target easily and quickly. There is a mechanical rheostat that lets you make pin brightness adjustments. In turn, this will let you achieve clear sight pictures in any lighting condition. You can use the lens kit B and Blue Burst sight light with this sight.
The bow sight offers you a rigid pin compared to the plastic reticle found in most sights out there. Even with its rigidity, you can still adjust the varying ranges with ease. You can be confident in having clear sights without clutter.
Thanks to the single illuminated pin on this bow sight, you can easily view and aim at your target even in low-lit conditions. Adjusting the pin can be done with a single hand as you get the right windage and to different ranges. Making those long shots and shooting in harsh days is easy with this bow sight.
It is also one of the most durable single pin bow sights for hunting out there.
Pros
Sturdy CNC machined aluminum construction
Easy to adjust
Delivers well in low-lit conditions
Green sight ring offers quick and easy target acquisition
Cons
Initial set up can take up to an hour and a half
02. TRUGLO Range-Rover PRO LED Bow Sight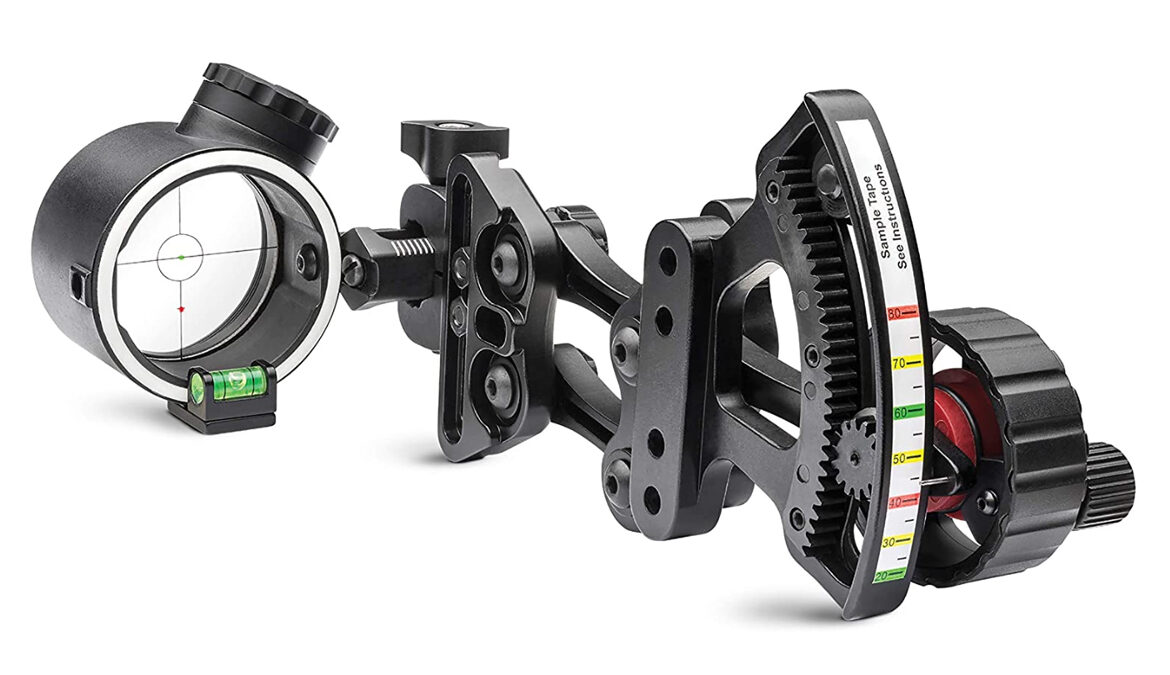 This bow sight offers you premium precision with your shots. Also, the sight comes with a whole lot of adjustability to enhance your shooting experience in the field.
There is a zero-in adjustment dial that features more than 80 pre-marked yardage tapes. It also offers you micro-adjustable windage with the precision click design. Mounting this sight, setting it up and sighting in can take some time.
However, it will offer you constant sighting in with easy adjustment when you are done with the initial set up.
For both windage and elevation, you can enjoy a one-hand adjustment. Besides that, you get a black reference circle with a lighted center dot for excellent accuracy over a long distance. This sight also offers you an adjustable LED with 11 brightness levels to suit the lighting condition.
There is a wide field of view with this bow sight. Why is that so? It's because there is no pin to obstruct your view, especially over long-distance shots. Keep in mind that you can adjust the brightness of the LED to match the level suitable for the current lighting condition.
You can enjoy the tool-less yardage and windage lock onboard, along with laser marks for making elevation and windage adjustments. The sight is adjustable for both left and right-handed shooters.
Additionally, the bracket design is updated to offer you enhance compatibility. In other words, you can use this bow sight with more bow models. There is also an adjustable quiver mount onboard.
Pros
Sturdy and durable construction
Wide field of view
Adjustable LED with 11 brightness levels
The quiver mount is adjustable for both right and left-handed archers
Tool-free setup
Cons
It can be heavy and complex to a beginner
03. Trophy Ridge React Pro 5 Pin Sight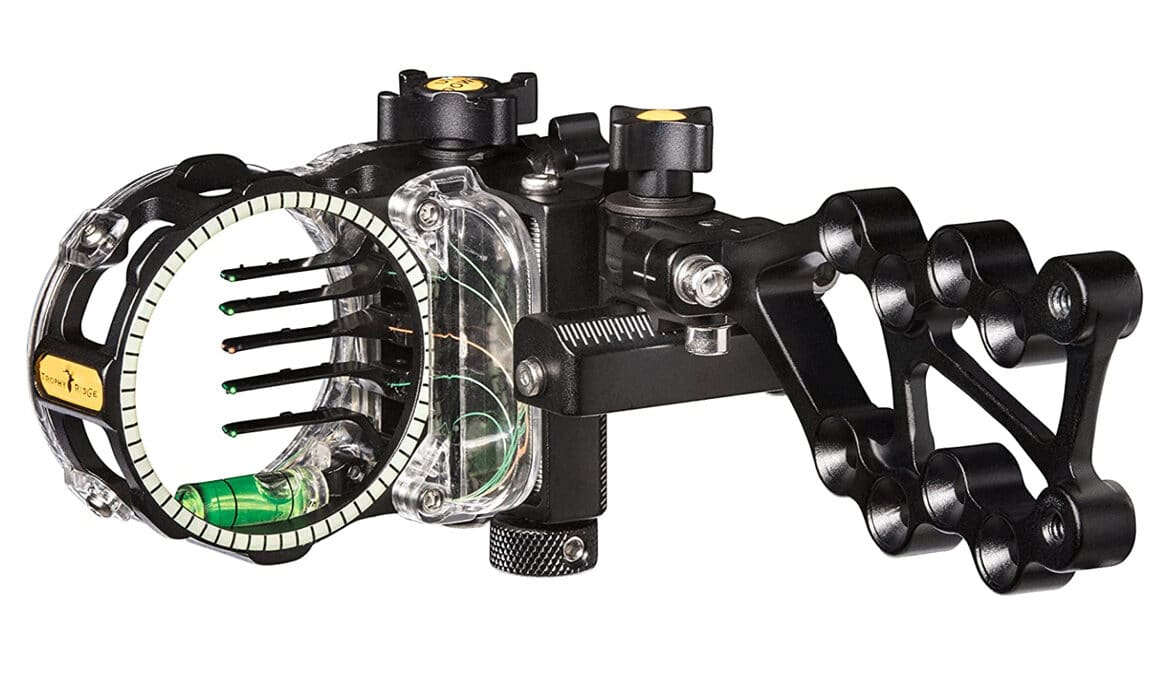 For those looking for the ultimate accuracy with their archery, this sight would be a good pick for you. It is lightweight but very strong and reliable too.
This bow sight uses the React Technology that is blended with other premium features. With this, you can be sure of getting excellent performance with every hunt.
Thanks to the React technology, the bow sight will automatically adjust each of the five pins to the optimal location. As a result, you can be confident of achieving mathematical precision with the sight.
You can easily make corrections with the advanced tool-less micro-click elevation and windage adjustments. Even better, there is a Third Axis Adjustment that lets you enhance the accuracy at the severe angles over long distances.
No need to worry about the durability of this sight as it comes with durable stainless steel hardware and solid aluminum construction. Regardless of the outdoor condition, this bow sight will serve you for a long time.
There are .010" small fiber optic yardage indicators that are super bright. These indicators are perfectly visible regardless of the environmental conditions.
Also onboard is the glow-ring that lets you keep the visibility constant through low and changing light. The rheostat light allows you to increase the brightness to suit the visibility condition.
Preferably, this would work well only for right-handed users. You might find it hard to use if you are left-handed.
Pros
Sturdy aluminum construction and stainless steel hardwaresfgvw
The React Technology adjusts the pins automatically to the optimal location
You get a glow-ring for maintaining visibility through different light conditions
Third Axis Adjustment allows you to better the accuracy over long distances at severe angles
Tool-less micro-click windage and elevation adjustments
Cons
It can be noisy hence not ideal to use near your target
04. TOPOINT ARCHERY Three-Pin Bow Sight
If the previous sight didn't suit you since you are a left-handed archer, here is an ideal option for you. This bow sight is designed for both left and right-handed archers.
The bow sight comes with a sturdy 6061-T6 aluminum construction that will keep it strong during the multiple uses. Moreover, the brass fiber optic is also sturdy and durable enough. By the way, this is the cheapest sight on our list. You won't even have to budget for it.
If you have poor eyesight, the .029-inch fiber optic should serve you comfortably. Besides that, this one comes with a simple 3-pin sight to let you make accurate shots even over long distances. Also, the sight has gone through shake testing to assure you of excellent performance and durability too.
There is a pre-installed level that features two vertical indicators. With these, you can be sure of achieving optimum accuracy with your shots. Don't forget that there are markings on this bow sight, which should come in handy when you are adjusting for windage and elevation.
Pros
Very cheap but reliable too
Solid and lightweight construction
Shake-test passed for durability
Ideal for both left and right-handed users
Features markings for easy adjustment of windage and elevation
Cons
Not the perfect pick for low-lit environment
05. Trophy Ridge React One Pro Single Pin Bow Sight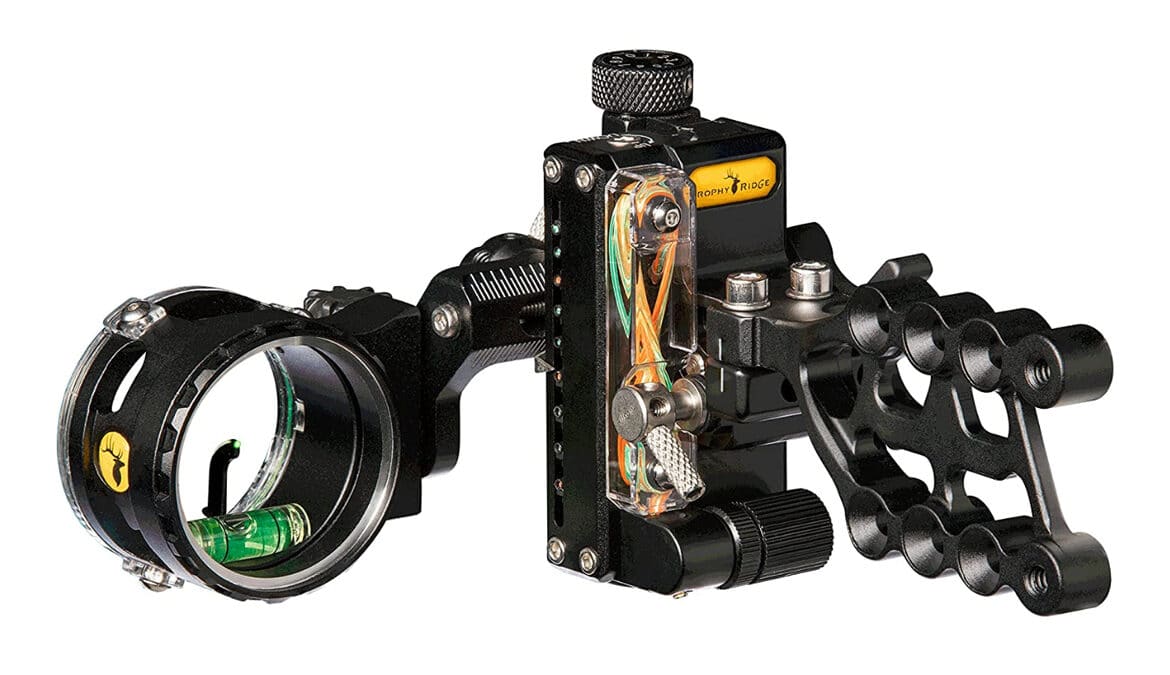 This marks the last product among our best single pin bow sight reviews. Even being the last product, this bow sight is faster and more precise than most sights out there.
You also get to enjoy the React Technology on this sight, which will adjust the pin based on the environment. In other words, this technology helps to enhance the precision of the bow sight. The advanced tool-less micro-click elevation and windage adjustments let you make swift corrections.
With this bow sight, you get .019-inch fiber optic yardage indicators. These indicators will be visible enough regardless of the environmental conditions. Even better, you get to adjust the brightness based on the lighting condition.
In other words, you can still shoot at your target at dawn or dusk. This is made possible with the rheostat `2qzlight.
There are 10 custom sight tapes and a lens retainer ring that come with this bow sight. The dovetail mount of this bow sight makes it easy to take it on and off the bow. Plus, it helps to enhance the accurate positioning of the pin to place them away from you.
Most archers tend to consider the construction of bow sight, and this one doesn't disappoint. It is made of durable stainless steel hardware and engineered-aluminum construction. In other words, this bow sight will serve you for a long time without wearing out.
Specifically, this sight is designed for left-handed users. So, it might not serve you as you expect if you are right-handed. But if you are ambidextrous, then you shouldn't have a problem working with this bow sight.
Pros
Features the React Tech makes automatic adjustments
Mechanized aluminum construction with stainless steel hardware
Comes with a sight level
Enhances visibility in low-lit conditions
Package includes 10 sight tapes
Cons
Designed only for left-handed users
Might be pricey to some archers
Do not forgot to visit and read about Best Crossbow Broadheads for your near hunting plan.
Here You can take a quick look on the Best Bow Sights for hunting.
Also, don't forgot to checkout our Best Compound Bow reviews
In your hunting plan Do's and Don'ts with Bow Sights
A bow sight might help you make your shots more accurate, but handling it comes with some conditions. Here are some dos and don'ts when working with a bow sight;
DO zero in your bow sight. Ideally, ensure that you sight in your bow before you go into the field. It can be time-consuming to zero in on the distances. That is why you should do it ahead to time.
DO practice with your bow sight. The more you practice with your bow sight, the more you get to understand its intricacies. Make sure you understand the bow sight perfectly before you go out in the field.
DON'T go out without installing the bow sight. Never step out to go hunting if your bow sight is not installed.
DON'T change your stance. The best way of achieving accurate shots is not only by using a good bow sight but also by maintaining your stance. Changing your stance can throw off your shot.
DON'T pick a complicated sight for you. Even if it is the simplest sight on the market, go with it as long as it is not too complicated for you to operate.
Do choose a type of bow sights for hunting that suits you. Take your time to understand the type of bow sight and how it would suit your shooting needs.
Don't forget to observe safety tips when working with your bow.
Frequently Asked Questions
What is the best bow sight for deer hunting?
Typically, there is no right or wrong bow sight for deer hunting. It all depends on your hunting style and the hunting environment. However, most experts consider the pendulum bow sight to be more favorable for deer hunting. They let you make elevated and angled shooting easier.

How many pins should a bow sight have?
It all depends on what you need. Generally, never use a bow sight that has more pins than what you need. For the whitetail hunters that shoot within 30 yards, a one pin bow sight should be enough. Basically, go for a sight with enough pins according to what you need.
What is the best single pin bow sight?
Go for a bow sight with a vertical pin, which happens to be more durable. Also, consider a reticle bow sight that will offer you better target acquisition. Don't forget to choose a bow sight that is adjustable.
What is the best adjustable bow sight?
As long as the bow sight is easy to adjust without the need for tools, it should be good enough to serve you out in the field.
Is it okay to pull back the bow without an arrow nocked?
No, it isn't. Dry firing your bow can injure the bow and also hurt you when you do it. For that, only pull back the bow if you have an arrow nocked.
Final Words
There go — our best bow sights reviews. You now have a clue of how to choose the right bow sight to serve your shooting needs. Remember to practice your shooting skills for you to enhance your accuracy in the field. A bow sight is only meant to help you focus at the target, but you will be the one taking the shot.