Precision and accurate aiming is one of the crucial aspects of archery. If you are a hunter or an enthusiast who is into archery, then it is not something new for you to understand. It is safe to say that accuracy is another synonym used for archery.
Many questions may arise regarding it, and it is vital to get knowledge about the gear before you buy or start using it. One of the common questions that arise is when do bow sights work the best, and if you are someone who wants to know further regarding it, then you have come across the right article.
With everything evolving around the world, archery has been having its fair share of advancement as well. Various methods, techniques, and new equipment are being used for it. Such an example can be gears such as bow sights.
So, What Is a Bow Sight?
Aiming with accuracy is not an easy task to do as it requires great skills to hit the bull's eye. Being able to aim like a pro might not always be the case due to various reasons. These reasons may include poor vision, lacking practice in archery, and many more.
In cases like that, a bow sight provides great help. With the help of using it, hunters are able to reduce errors and eliminate mistakes. To be more precise, it is a gear that helps shooters with better accuracy.
Just like guns use a bow sight to see and aim better, a bow sight for archery acts similarly. Both guns and archery make use of this tool but with a few notable differences; however, it is used for the same purpose.
How Does a Bow Sight Work?
It is essential for you to learn how to use a bow sight and understand its function before you choose to buy one for your archery. A bow sight functions according to the parallax principle.
A bow sight is mostly put at the middle of the bow, preferably for better accuracy. It consists of pins aligned in a circular ring. A lens is added from which an archer is able to see their target. Once assured of the accuracy, the archer takes the shot and is able to hit the target.
A bow sight consists of few important components in order to function. It can have one or more pins which are sets placed adjacently to each other into the circular ring. Now you may ask what the circular ring is. The circular ring is the object used by an archer to look at their target.
With the help of the ring, the shooters are able to have an enclosed look. Lastly, the optical view lens is a type of lens that helps magnify the view for the shooters for more focused viewing purposes.
Bow Sight and Its Types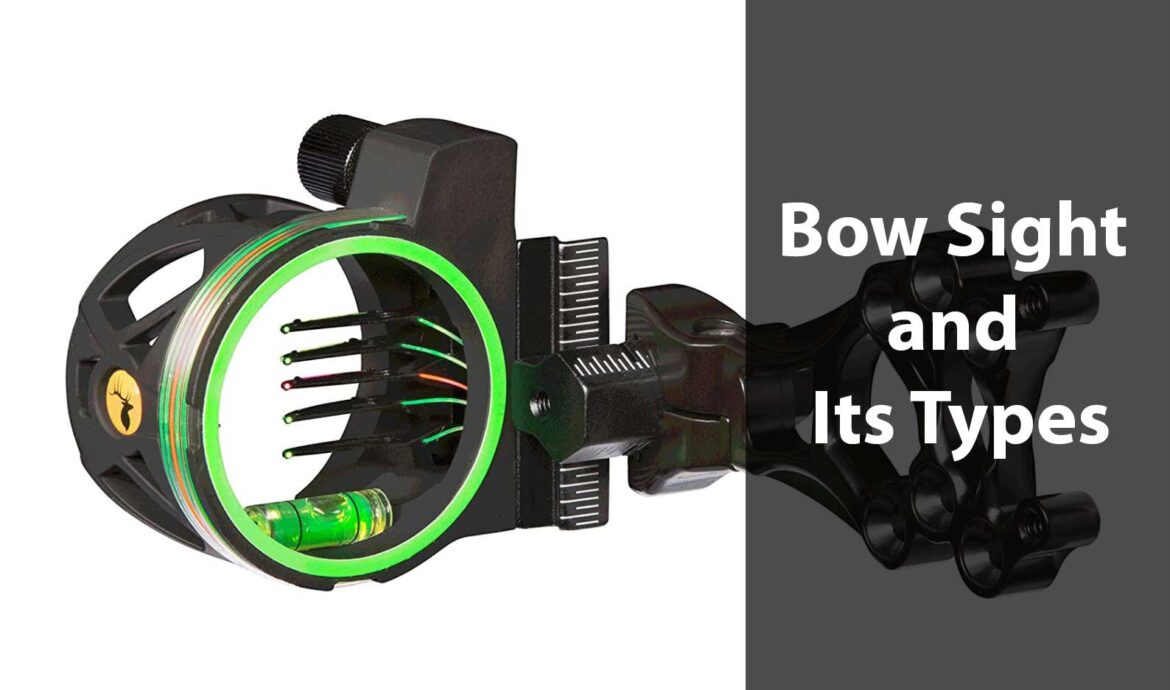 Bow sights are found mainly in two types. The two types include one that is a multi-pin bow sight, and another is a single pin bow sight. The differences in the pins make the gears different from one another. The multi-pin bow sight is easy to mount and has a large circular gear between the two pins. It's simple to use, but it can occasionally be inaccurate. The single pin bow sight is quite reliable and accurate. The accuracy comes from the small square pin that travels in a straight line. It's a good idea to take care of your sights by oiling them.
For archers, choosing the right bow sight is vital for hitting their target. But with so many different types of bow sights on the market, it can be hard to know which one is right for you. In this article, we'll break down the different types of bow sights, and when they work best so, you can make the best choice for your needs.
Multi-pin
A multi-pin bow sight has more than one pin, as the name suggests. It is the most popular and works the best for games. The multi-pin allows up to six pins, according to its model. An archer can change the number of pins according to their preference. It allows an archer to adjust the pin depending on the distance.
However, adding too many pins may cause the image to be cluttered and might make the archer confused. As a result, an archer may mess up his/her shot. Thus, using multi-pin can also be disadvantageous.
Single-pin
In contrast, a single pin only allows one pin to be carried. Upon using a single pin, archers are able to have a clearer image as it does not get cluttered like a multi-pin. For a few shooters, using a single-pin gives them more convenience to shoot with.
However, it can be disadvantageous if you are shooting a living animal. It is because a fast-running animal can be hard to follow using just one pin. Hence,the change in distance requires multiple targets. Adjusting using the single pin may result in the loss of the target within that time frame.
When Doesn't a Bow Sight Work at Its Best?
Before we talk about when a bow sight works the best, it is important to gain knowledge when it doesn't first. Choosing the right pin is vital and being able to adjust it correctly plays a big role as well. If your prey is fast-moving and your bow has the wrong pin, then your chances of missing the shot are very high.
Being able to understand the distance and aiming correctly are important skills for all archers or shooters. At the beginner level, you might mess up and might not be able to make your bow work at its best. However, with practice, you will be able to reduce the errors and have a better understanding of the use of the sight.
When Is a Bow Sight Able to Work at Its Best?
Hitting Targets When You Are Not on the Ground Level
When you aren't on the ground level, your bow sight will work the best. It is because the gear is able to provide the perfect lineup and angle so that you can pin your target.
In this case, ensure you use the bow sight to understand what the approximate angle should be in order to shoot your target with a perfect hit. Make sure you know if the target is moving or not; otherwise, you might mess up the equilibrium of the shot.
Making Sure Your Bow Is Held Correctly
One of the crucial factors that should be kept in mind is to ensure that you are holding it correctly. You need to make sure you are also holding it at the correct degree and aiming according to the slope or position you are at.
Having the Right Fit for the Hunting Style
Once you have chosen the right pin for the bow, you will be able to shoot in the wild with more comfort. If you aren't quite sure where the target is, then using the single pin would be the best.
However, if you are going to shoot from a short distance, then the fixed pin will be better to use. Once you have enough practice, you will be able to choose pins according to your preference and shoot better. It will help your bow work the best once your hand becomes a pro at handling the art of archery.
Elements to Keep in Mind Before Choosing a Bow Sight
Before you get a bow sight, it is essential for you to keep a few elements in mind so that you can get your hands on the right bow sight and can get the proper use out of it.
Range and Durability
Firstly, you should look for the range of the pin that you want. It is vital for you to know which bow sight you will need, for long-distance or short distance. If you want a bow sight for short distances, then a fixed pin is highly suggested.
Also, while choosing, make sure you find one that has high durability and will serve you for a long time without any damages. Getting a long-lasting bow sight will help you to shoot your shot for years without having to spend on a new one again.
Brand and Cost
Ensure you know which brand to get according to your budget before you purchase. You should research the types that are available in the market so that you can purchase the right item at a worthy price.
Some Tips
Make sure you keep the anchor point consistent as even a slight change may result in differences in your accuracy, and the precision may be lost when the arrow is released.
If you are a beginner, make sure you have enough practice before you go out in the wild for shooting. Furthermore, work with shorter distances at first to improve your skills and then hop into longer distances.
On days when you don't feel ready enough or aren't in the mood for archery, do not force yourself to go for it. Instead, skip the day and choose to go for archery when you think you are both mentally and physically fit to perform the task.
Final Words
There is no doubt that bow sight is an essential gear for all shooters. It will not only help you improve your shots but will ensure you with greater accuracy upon using it.
We hope this article has helped you understand when do bow sights work best and helped you with all the necessary information.Make sure you keep the tips in mind so that you can improve your skills of archery and hit the bullseye every time you shoot.