As an Amazon Associate we may earn commissions, from qualifying purchases made through our links (no added cost for you). Every product mentioned in this website is independently selected by Recreational Hobbies editors.
If you are considering buying the Raptor Pro STR but aren't sure whether it will work for you, our Barnett Raptor Pro STR review may be able to help you.
As a mid-end Barnett crossbow, Raptor Pro STR likely is highly attractive to most of our readers – its performance is sufficient enough for most needs, while its pricing is fairly pocket-friendly. With that said, does this mean that this crossbow will be the right choice for you?
Read on to find out!
Barnett Raptor Pro STR Crossbow Review
Now, let's have a deeper look into the Barnett Raptor Pro STR crossbow. On our review, we'll have a look at the features of Raptor Pro STR, touch upon its overall feel and quality, and share with you our overall impressions of this crossbow.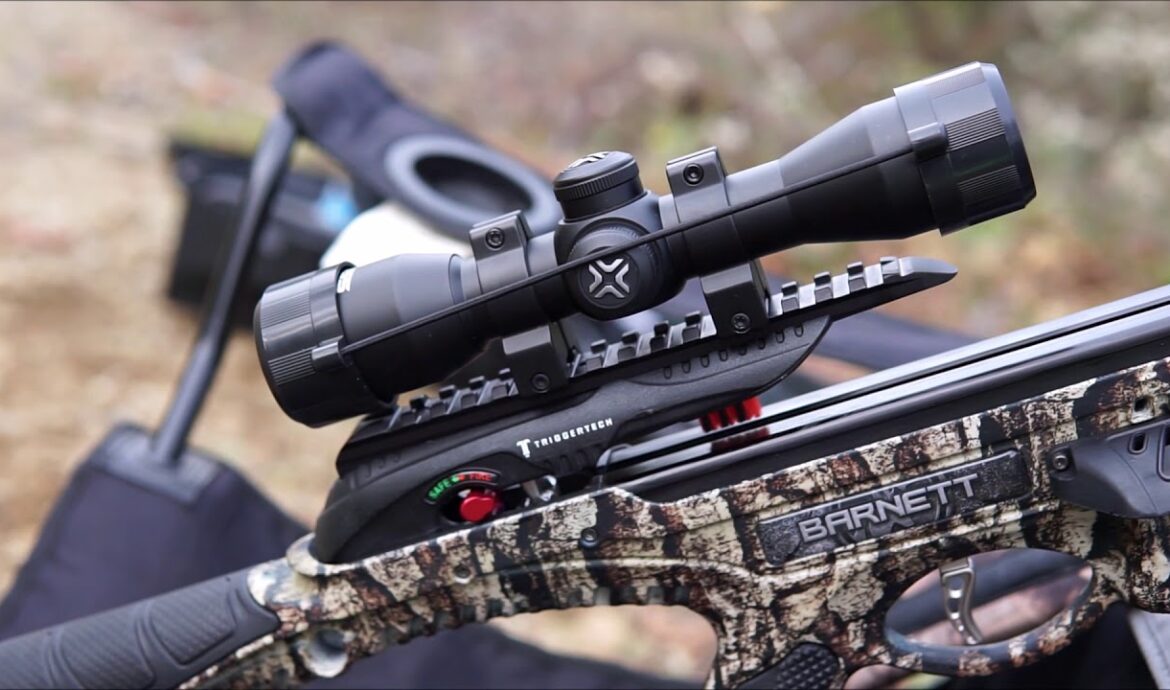 Our Top Reasons to Choose the Barnett Raptor Pro STR
Smooth TriggerTech assembly for smooth shots
Step-Thru Riser for added compactness and reduced weight
String dampeners for vibration absorption
High bolt speed & power
Advanced safety features
Single-bolt assembly
Included accessories galore
Diving Deep Into The Barnett Raptor Pro STR with Realtime Review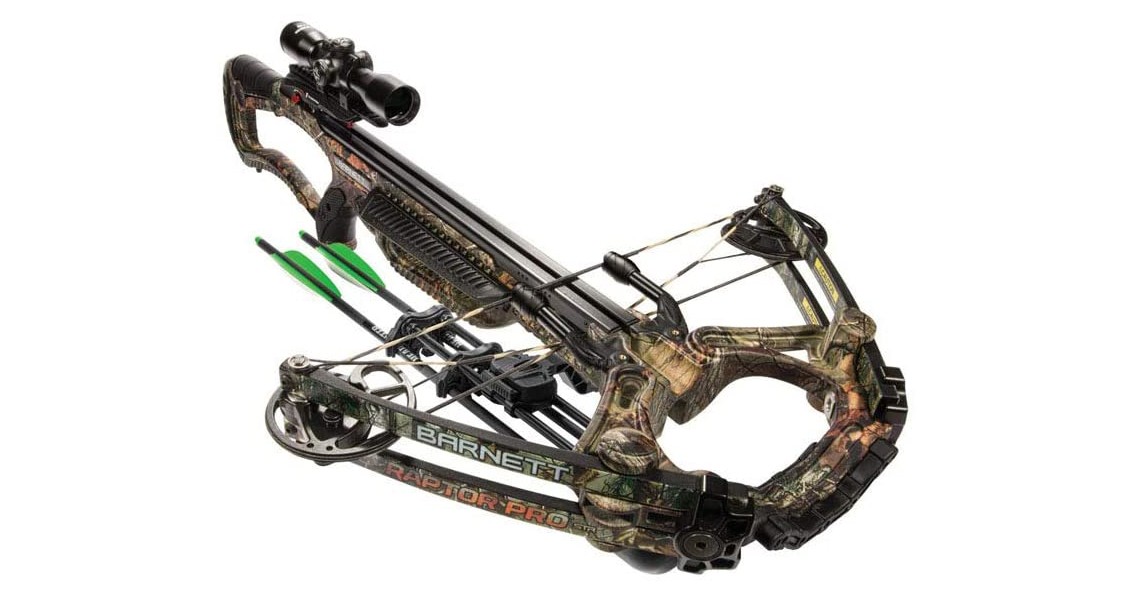 Part of the Barnett STR series, the Raptor Pro STR crossbow has rather a lot to offer. Below, we'll cover the key features of Barnett Raptor Pro STR, comparing it with other crossbows from the STR lineup, and some crossbows from other Barnett lines where useful.
Smooth TriggerTech assembly for smooth shots
The TriggerTech assembly appears to be the thing that Barnett is the proudest of in its crossbows. This is the first technology that you see on Barnett's technology webpage. Well, no wonder – it appears that TriggerTech is one of the more important features that make Raptor Pro STR what it is.
The key thing in TriggerTech is its low-friction design – in its TriggerTech assembly, the Raptor Pro STR employs a free-floating roller placed between the holding latch and the sear. What such an interesting design allows for is dramatically reduced friction and a smoother trigger feel.
Just for some perspective, Barnett claims that the trigger weight in the TriggerTech assembly is as low as 3 pounds, while the typical crossbow's trigger weight falls in the 4-9-pound range. With this in mind, the Raptor Pro STR will offer unparalleled trigger lightness that you may need to get used to if you are upgrading from a lower-end crossbow.
Notably, the creep (the amount of trigger travel before the crossbow fires) is advertised to be zero. Thanks to this, the trigger performance of Raptor Pro STR should be more predictable.
On the other hand, the zero creep means that you should be very careful with your crossbow when it's cocked, so keep that in mind.
Step Thru Riser for added compactness and reduced weight
The Step Thru Riser (also called Step Through Riser) is the second major feature in the Barnett Raptor Pro STR. In fact, it's the feature which the STR line is named after since STR stands for Step Thru Riser. The Step Through Riser isn't exclusive to STR crossbows (it's also met in the high-end Hyper line), but it's one of their differentiating features.
The purpose of the Step Thru Riser is to combine the foot stirrup with the riser of the crossbow. This is in contrast to traditional crossbows where the stirrup is mounted in front of the riser.
According to Barnett, the Step Thru Riser allows for a decrease in weight and size of STR-series crossbows (a little more about weight and size later). Apart from that, it allows Barnett to maintain or even lengthen the power stroke of their crossbows without having to place the string beyond the length of the arms.
In addition, the Step Thru Riser makes the Raptor Pro STR crossbow look pretty cool. The Step Thru Riser is made from fiberglass composite as well, so it should not only be very light but also extremely durable.
String dampeners for vibration absorption
The string dampeners are also an important feature in the Raptor Pro STR crossbow. Their purpose is to reduce vibrations and sound, allowing for a smoother shooting experience along with possibly added accuracy.
The dampeners pair wonderfully with the TriggerTech trigger assembly since it likewise reduces confounding variables from the aiming and shooting equation.
High Bolt Speed:
The Barnett Raptor Pro STR crossbow also has a rather high bolt speed in its class. More precisely, it is at 400 feet per second. For some perspective, the higher-end Predator STR has a bolt speed of 430 feet per second, while the lower-end Whitetail Hunter STR is at 375 feet per second.
Note that these speeds are for light 380-grain crossbow arrows – with heavier bolts, the speed will be lower, though you'll also be getting greater penetration and hitting power.
The bolt speed is paired with a draw weight of 187 pounds, which is pretty high but on the lower end in the STR line. In contrast, the pricey Predator STR has 207 pounds, which is among the highest in the crossbows offered by Barnett. The least expensive crossbows offered by Barnett are around the 170-pound mark.
High Power:
The draw weight, if you didn't know, is the amount of force with which you need to cock the crossbow. Higher draw weights allow for higher arrow speed, hitting power, and penetration ability, so Raptor Pro STR is great in these areas.
Next, we have kinetic energy. In the Raptor Pro STR crossbow, it's at 135 foot-pounds. For comparison, the higher-end Predator STR delivers 156 foot-pounds of kinetic energy, while the cheaper Whitetail Hunter STR has about 118.6 foot-pounds.
All in all, Raptor Pro STR offers a good amount of kinetic energy, but certainly not the highest you can get with Barnett crossbows. Thanks to its rather high kinetic energy among STR-line crossbows, Raptor Pro STR will have more punching power than its counterparts.
Finally, you have a rather long power stroke as well –about 16.25 inches. For comparison, the Predator STR crossbow has a longer 16.33-inch power stroke, while Whitetail Hunter STR has a shorter power stroke of 15-7/16 inches.
The 400fps arrow speed in the Raptor Pro STR crossbow is largely thanks to the power stroke – with a longer power stroke, the arrow accelerates longer before being shot from the rail.
I can say from my experience, the Barnett Raptor Pro STR crossbow is the best bow for hunting. But for beginners, you may find the batter solution on our other review on the Best Compound Bow for Beginners. You may also feel interest to know about the best ladder stand for bowhunting. You will find its full of real information from the real user experience.
Advanced safety features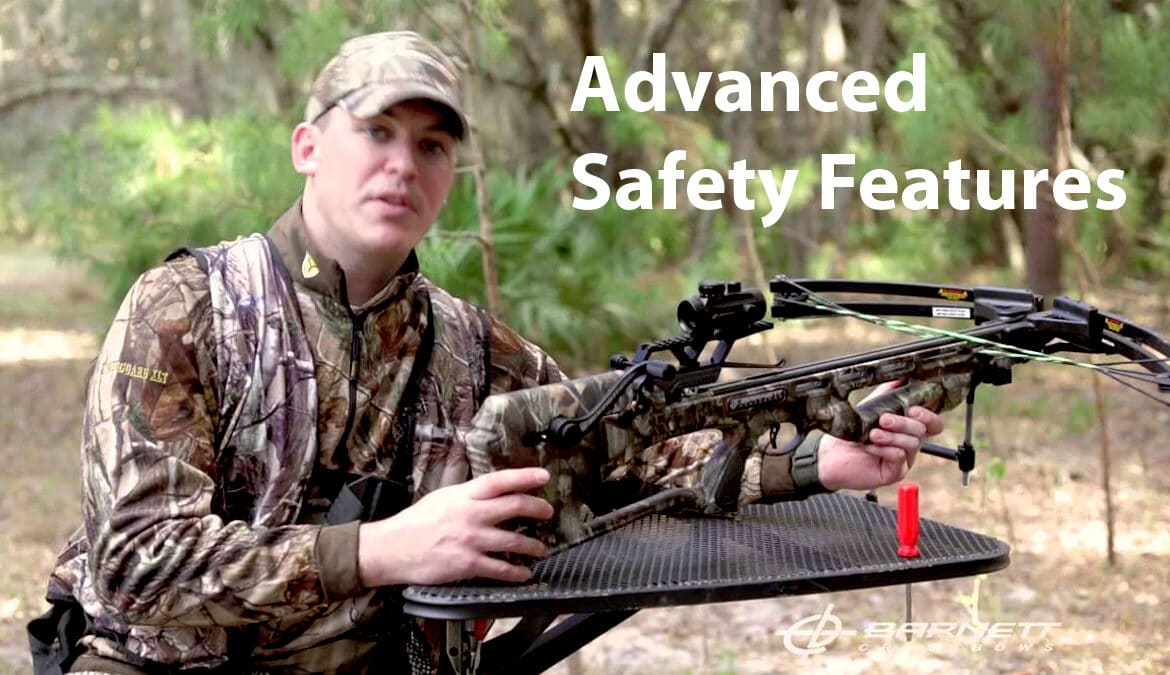 Although the benefits and features of Raptor Pro STR are more about its performance and power, safety is also great in. It has a wide range of features to keep you and others safe.
First up, Raptor Pro STR employs the patented Soft-Lok floating bristle arrow retainer technology. The purpose of this feature is to apply downward pressure on a loaded arrow. This allows the bolt to sit tightly in its place, which should bring improved safety while the crossbow is loaded.
The second important safety feature in Raptor Pro STR is the anti-dry fire trigger. When no arrows are loaded into the crossbow, a spring-loaded bar engages to prevent dry firing. Although it may seem that as long as there is no arrow in the crossbow, accidental firing is harmless. It can actually harm both you and the crossbow.
Another neat feature is the finger safety reminders. Each side of the rail has finger safety markers to remind you to keep your fingers away from the arrow and the string. This should be a helpful feature for both newbies and skilled shooters. Since finger safety is one of the most forgotten and neglected things in crossbow shooting.
Finally, for added finger protection, Raptor Pro STR has a pass-through foregrip. The foregrip allows you to keep your fingers in a safe location. Not only that, but the pass-through foregrip will provide you with better hold onto the crossbow and thus better accuracy and stability.
Single-bolt assembly
Interestingly, Raptor Pro STR is one of those Barnett crossbows that are made in the single bolt assembly design. What this means is that the crossbow is shipped mostly assembled, so you need to do minimal assembly work before loading your first bolt and shooting.
Included accessories galore
Barnett includes a good variety of accessories with the Raptor Pro STR as well.
Perhaps the most important accessory from those included is the 4x32mm illuminated scope. This is a pretty expensive and quality piece of equipment that will come in handy when shooting crossbow arrows at long ranges.
For added convenience, the Raptor Pro STR crossbow comes with a rope cocking device as well – this handy accessory will allow for easier cocking by halving the required draw weight, which should be very useful since the draw weight of this crossbow is rather high.
By the way, Raptor Pro STR is compatible with Barnett crank-cocking devices, so for even more convenience and increased rate of fire, you may get one for this crossbow as well. This crossbow also has a Picatinny rail for attachment mounting (e.g. the included scope).
The side-mounted quiver along with two 22-inch Headhunter arrows. This will Also allow you to get started immediately upon receiving this crossbow. While the included lubrication wax should come in handy for maintenance.
Let's watch a video review for Barnett Raptor Pro STR
Build, Weight, And Quality
Now, let's talk a bit about how the build and the quality of Raptor Pro STR feel.
So, as a pretty expensive Barnett crossbow, Raptor Pro STR boasts a solid build with durable materials. It's well-built and seems nice overall – as you'd expect from the money.
Apart from the composite Step-Thru Riser, Raptor Pro STR also has a metal injection-molded trigger; and a CNC-machined aluminum flight track. So it should serve you for the years to come.
In terms of weight and also size. Raptor Pro STR certainly isn't the lightest and most compact crossbow. In its line Sized at 36.5 x 20 inches (L x W) and weighing 6.9 pounds. It's a middle-ground model in the STR series.
Length-wise, Raptor Pro STR is actually one of the longer Barnett crossbows. If not for the Step-Thru Riser, it would have been much longer – perhaps too long for most people's needs. With this in mind, the Step-Thru Riser's purpose isn't to allow this crossbow to compete with very small models; rather, its goal is to let Raptor Pro STR retain its power without becoming too large.
If the review is not full of your intentions; we recommend you read deep reviews of our other reviews on almost 10 Compound Bows. I hope you will get something useful about this.
Our Overall Impression and Review Of The Barnett Raptor Pro STR
Within its STR line, the Raptor Pro STR seems like a well-balanced crossbow. This crossbow positioned somewhere in the middle price-wise; and it also offers all around very nice performance characteristics. The build quality and feel are excellent as well and the heft of the crossbow. Makes it seem that you are holding a highly advanced piece of technology, (which it really is).
Raptor Pro STR doesn't particularly excel in the areas of price or performance. It's not the best crossbow for limited budgets and it doesn't offer the best crossbow performance out there. What Raptor Pro STR does excel at though is value for the money; no other Barnett crossbow can boast the same performance at the price. There are lots of wonderful broadheads are perfect fit for the Barnett raptor pro str. Jump to know more about the best crossbow broadheads in our other in-depth review.
Frequently Asked Questions
How fast does the Barnett Raptor Pro STR shoot?
The arrow speed in Raptor Pro STR is 400 feet per second with 380-grain crossbow bolts.
What arrow sizes work with the Raptor Pro STR?
Raptor Pro STR is intended to work with 22-inch long crossbow arrows.
Is the Barnett Raptor Pro STR a good hunting crossbow?
With its high kinetic energy, arrow speed, and draw weight, Raptor Pro STR should be a great hunting crossbow. It probably won't be able to tackle big game, but for most hunting needs, it should be more than enough.
How compact is Barnett's Raptor Pro STR crossbow?
Raptor Pro STR is sized at 36.5 x 20 inches (L x W). It's a relatively large crossbow. But thanks to the Step-Thru Riser. it's much smaller than it could have been and smaller than some other available crossbows with similar performance.
Final Words
All in all, we think that the Barnett Raptor Pro STR crossbow will work wonderfully for many people out there. It offers a very nice balance of price. Performance excellent if your budget is somewhat limited; or and if you don't need a top-of-the-line crossbow.
We think that it's a great crossbow for beginners and intermediate buyers alike. So whether you are looking for your first crossbow or want to upgrade from your old one. Raptor Pro STR is likely to work.