As an Amazon Associate we may earn commissions, from qualifying purchases made through our links (no added cost for you). Every product mentioned in this website is independently selected by Recreational Hobbies editors.
Ladder stands are super essential when you go out to bowhunting. Bowhunting is an ancient way to hunt game by the use of archery and since then, men have innovated and improved upon the techniques employed to successfully do so. We've researched some of the best ladder stand for bowhunting so you may decide which one is best for you.
The importance of a good ladder stand is sometimes underestimated and we tell you right now that it shouldn't be. It's the starting point and sometimes, can make or break a good hunting trip. So be sure to be armed with one and enjoy a full hunting experience the right way.
Check out our list!
What is a ladder stand?
Before we go to our product list let's first understand what a ladder stand is and why it is essential for bowhunting.
A ladder stand is a type of tree stand or oftentimes called a deer stand platform that hunters employ. They can either be enclosed or open. The platforms are then secured to trees which are then used by hunters to give them vantage points.
To put it simply, a ladder stand consists of a ladder to climb on, a seat, and the rest of the platform that you can easily perch on as you scout an area and eventually go for the kill.
Ladder stands offer stability with good support from the tree as well as from the ground. Ladder stands are available on single or two-person varieties.
What is bowhunting?
New to bow hunting? We know you're interested so here's a few things you need to know about bow hunting, an ancient practice that has since been developed into something modern by modern hunters.
In its very definition, bow hunting is the hunting practice that utilizes a bow (or archery) instead of a gun for game animals. For thousands of years now, this has been employed by indigenous people but bow hunting in its own natural way has survived into the modern age and enjoyed by many as a means to gather sustenance or for sport.
Aside from bows, arrows, and sights are some of the most common tools utilized for bow hunting. Crossbows and wooden bows too. You utilized heavier arrows for big game such as moose or elk and of course, you use lighter arrows for smaller prey for faster speeds and better (flatter) trajectory.
So, why would other people prefer bow hunting as compared to using a gun? Well, it's to promote better wildlife management, let the wildlife population grow at a healthier rate, and improve certain habitats.
It's a recreation for a lot of people, it boosts the economy, it's an art form to some, it's educational, a great social event, and it's quite healthy for the individual participating to boot.
Benefits of using a good ladder stand for bowhunting
What are the qualities of a good ladder stand for bow hunting? What are its benefits and how can it help you take your hunting prowess to the next level? Here are a few reasons why you should employ one.
For safety purposes
A ladder stand is sure to keep you safe in a higher position with a better vantage point. When you're high above the ground then you're certain that you won't be in any dangerous distance with what you're trying to hunt.
Sometimes, it can be dangerous, and being perched up on that tree is a huge advantage. These ladder stands, if you choose the right one, will employ a few safety features like a harness to keep you high and secured.
They also offer greater stability and you'll definitely increase your chances of success. There are also ladder stands that will also have you on top with another mate so you both can be secured and your hunting game more effective.
Greater aim for your target
A bow is one of the most challenging weapons to wield especially that it's purely manual. That's why some opt to use a gun for its mechanical power is far superior. But hunting with a bow does have its benefits and gives an extra sense of satisfaction.
So being perched on top of an effective ladder stand for bowhunting somehow makes it a bit easier for you as a hunter to hit your target. Don't get us wrong, getting the perfect shot or angle needs practice but at least with a good quality ladder stand, you increase your chances of doing so.
You have a great vantage point and a greater view thus aside from the stability that it offers you'll be given a great line of sight towards your prey. Some come with an adjustable height feature so it can also accommodate your changing needs in the field.
Pretty neat, huh?
Additional ease and comfort when hunting
A ladder stand offers a lot of features that can make you comfortable throughout your hunting trip. You can relax and keep yourself refreshed as you play the waiting, after all, hunting requires a lot of patience and focus.
While you can't expect to be in your most comfortable state during hunting trips, ladder stands to alleviate a lot of the strain that comes with the practice or sport. You have a nice seat to chill on installed with an armrest, footrest, or maybe even a drink holder.
Stretch out those weary feet as you wait and aim for the kill. Plus you can take out the kids with you on a ladder stand or out hunting if it can accommodate you both. It just opens up a lot of other possibilities for you and the sport that you love.
The 10 best ladder stand reviews for bowhunting with pros and cons
1. Summit Viper SD Climbing Tree stand, Mossy Oak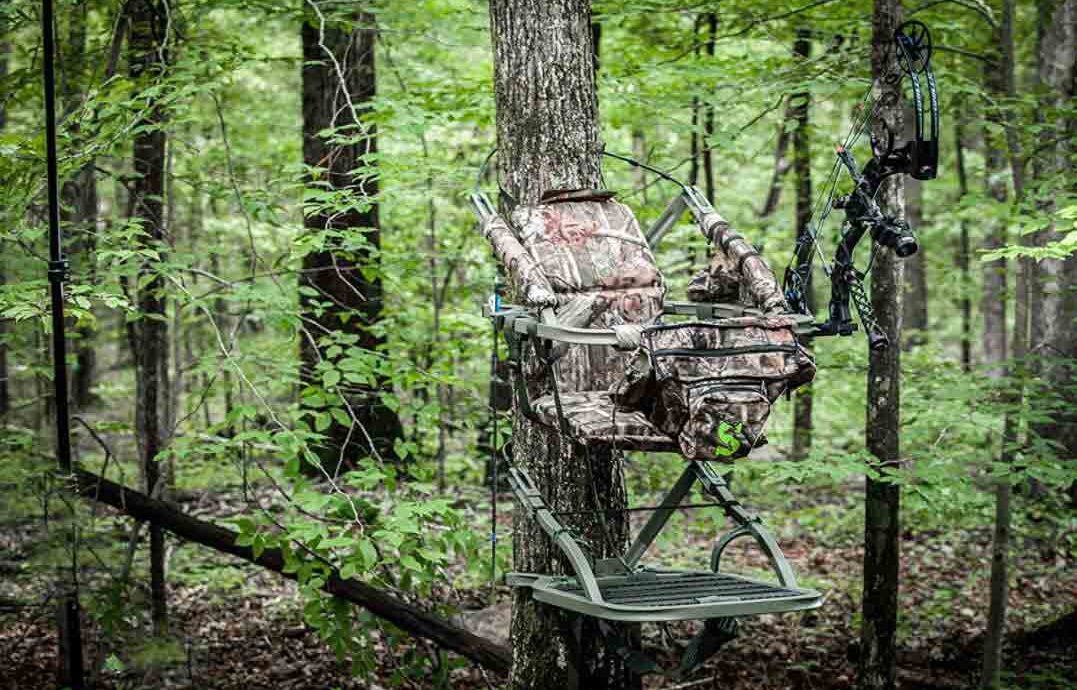 The first entry on our best ladder stand for bowhunting review is the popular and innovative Summit Viper SD. This has an enclosed-front climbing stand made of aluminium, has a suspended padded seat plus a backrest, weighs only 20 pounds, and can support a weight of up to 300 pounds.
It comes in a mossy oak camouflage color, a decent sized platform, and a full body harness to keep you safe. This is one of the rather versatile products out in the market today and it is quite comfortable and functional not to mention that it is lightweight.
That helps with its portability and ease of use when it's time to hunt. The brand has innovated the ladder stand for years now and obviously, it has paid off.
This one in particular is armed with advanced engineering. The Deadmetal technology makes sure to eliminate metal to metal noise to keep you concealed from your intended prey. It is also infused with the Quickdraw technology for a superb, fast, and quiet cable retention system.
The Rapidclimb Stirrups give you a comfortable as well as an adjustable fit for your boots. And lastly, the SummitLokt technology makes sure to give the aluminum material of this ladder stand supreme strength and rigidity to take on the needed pressure of bow hunting.
This is the ultimate tool to support you out in the field.
Pros
Innovative design and technology
Durable and safe
Great value for money
Ensures that you stay stealthy
Comfortable ladder stand
Cons
May not be the easiest ladder stand to set up on our list
2. Summit Treestands Goliath SD Climbing Treestand, Mossy Oak
Our second entry is larger than your usual tree stand and we're talking about the Summit Treestands Goliath SD. Aptly named, this tree stand is still relatively easy to setup on a lot of types of trees.
Just imaging that this product is still armed with all the features that we just discussed above but just at an additional 5 pound weight totaling to 25 pounds, you get 50 pounds of weight capacity more and now at 350 pounds.
It camouflages nicely onto trees so if you need more from your ladder stand then this is the product to go for. Durable comes with a full body harness, backrest, quick release buckles that are also adjustable, and padded armrests.
This aluminum ladder stand for bowhunting will stand the test of time and will be with you for a lot of hunting trips to come.
Pros
Offers a pretty high weight limit
Very lightweight
Great size
Very durable build
Comfortable and stealthy
Cons
3. X-Stand Tree stands the Duke 20 feet Single-Person Ladderstand Hunting Tree Stand, Black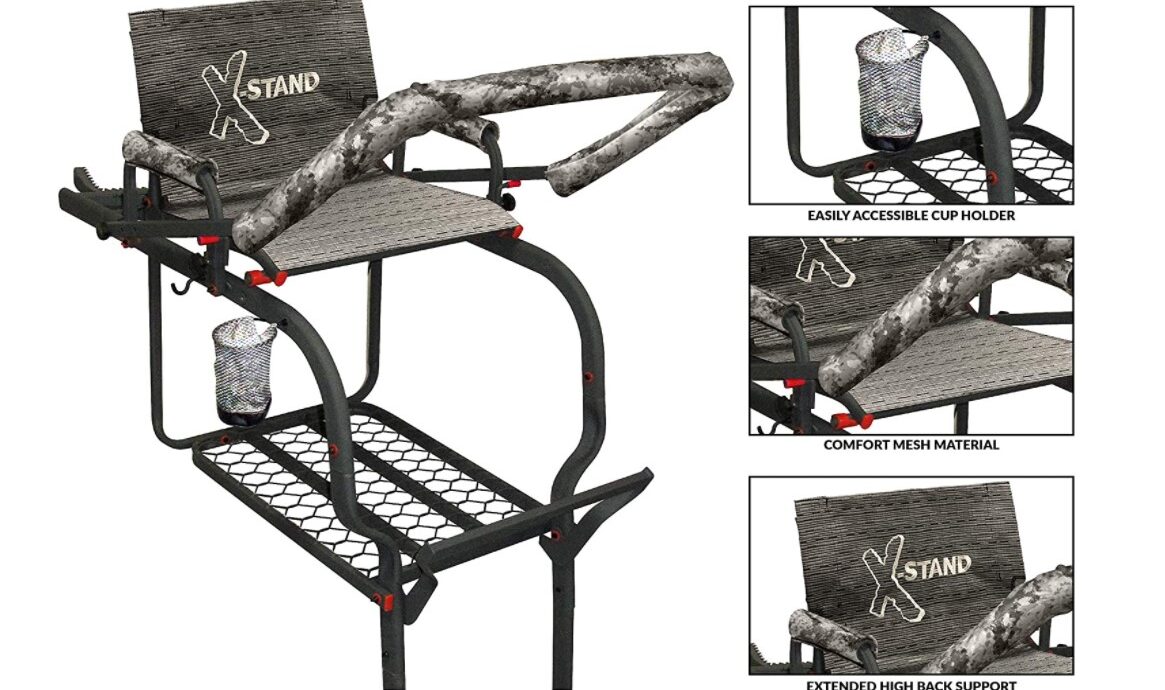 Stepping out of the shadows of the Summit brand we bring to you the ultra-tough X-Stand (the Duke) Tree stand. This one is made out of steel and from that you know that it's one tough ladder stand that is aimed at handling the pressure of bow hunting.
It can surely support you well as it can accommodate 300 pounds of weight and weighs 79 pounds itself which gives you an idea of how fast or easy you can transfer or set it up.
This stand stands at 20 feet from the shooting rail and has dimensions of 18 by 26 inches. It has a comfortable seat and has a 4 point full-body harness. It is armed with an innovative jaw safety system to keep you secure as you hunt for your target.
You also don't have to worry about staying stealthy as the self-lubricating nylon washers will ensure no metal to metal sound. This unit is known for its toughness, durability, and functionality. It's also powder-coated to protect itself from all the outdoor elements.
Pros
Will stand the test of time, this is one durable ladder stand
Great size and a weight capacity
Relatively comfortable seat with arm and footrests
Great value for money
One of the safest units on the list
Cons
It is not as stealthy as advertised that's for sure
4. Millennium Tree stands L110 Ladder Stand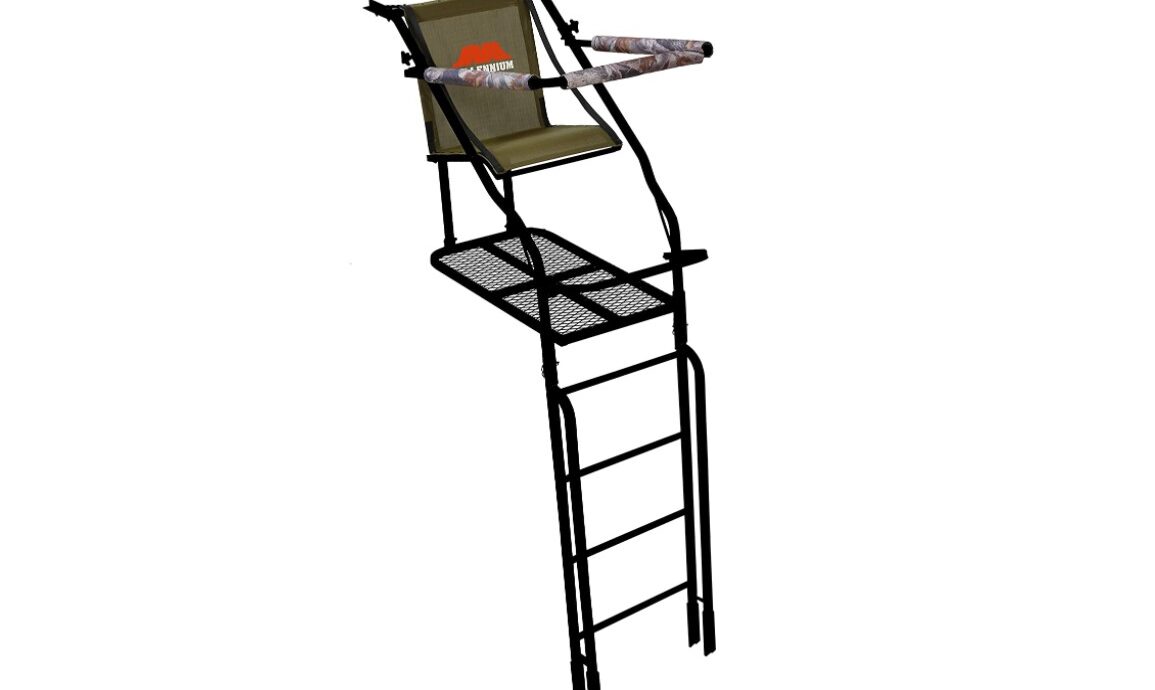 The penultimate entry on our best ladder stand for bowhunting review is the Millennium Treestands' L110 Ladder Stand. It actually comes with a pretty simple yet effective design, after all, they aim to make hunting comfortable for you.
It's got a padded shooting rail, ComfortMax seat, and folding footrest to ensure that you are comfortable atop of it. The steel construction also makes sure that this ladder stand is durable.
The Safelink design also ensures hunter safety, it's a 35 foot rope that's armed with a Prusik knot as well as a carabiner. This is to aid you when it comes to ascending and descending on your hang-on and ladder stand.
The platform is also adjustable. The height can be adjusted from 8 to 21 feet offers maximum versatility and will accommodate your needs. It's quite easy to set up too and comes with a full-body harness.
It can handle 300 pounds and its smart construction with powder-coated finish enables it to stand above the ladder stand crowd.
Pros
Durable and will withstand outdoor elements for a long while
Not short on safety features
Very adjustable and portable platform
Easy to set up
Easy to get off and climb on
Cons
It's actually not as comfortable as advertised
5. Rivers Edge Big Foot XL Lounger Hang On Portable Hunting Tree Stand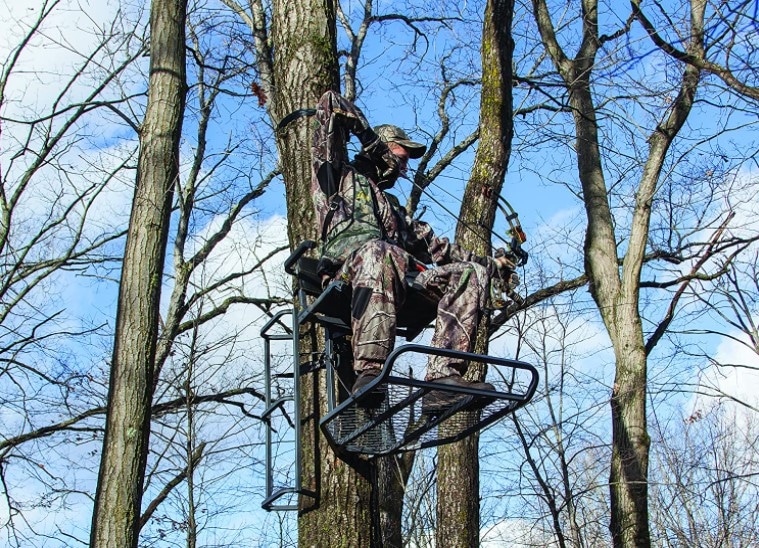 The last entry on our best ladder stand for bowhunting review is no other than the super-sized Rivers Edge Big Foot XL Lounger Hang on Portable Hunting Tree Stand.
This is an extra-large platform with dimensions of 37 x 24 inches. You will have room for your standing shots that's for sure. It's got a flip-up seat with an armrest for comfort all day long.
It's got a noiseless strap to stay as stealthy as possible and its TearTuff Lounger has decreased if not eliminated any chances of metal to metal noise.
You may stretch your legs when atop it and again, it's one of the most comfortable units on our review. The lever action stability won't require any need for additional tree attachment so you're safe and secured at all times.
This ladder stand can surely accommodate your desired height as you hunt.
Pros
Great size
Comfortable
Great value for money
Relatively easy to set up
Very durable build
Cons
Not as stealthy as advertised
6. Allen Company Vanish Ladder Tree Stand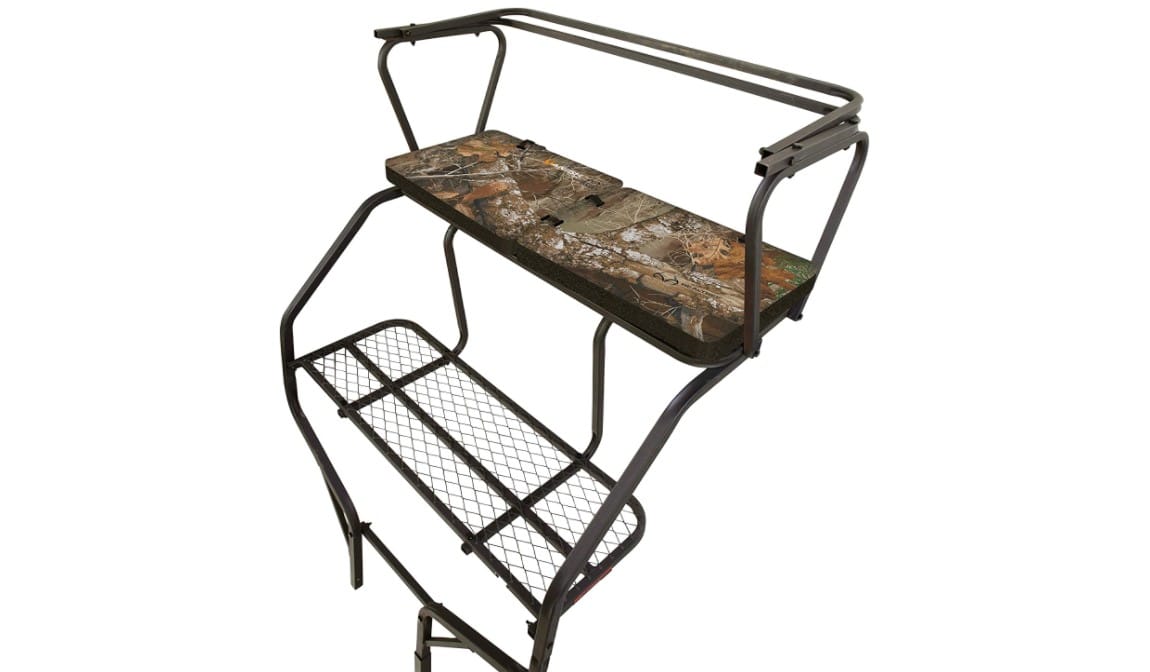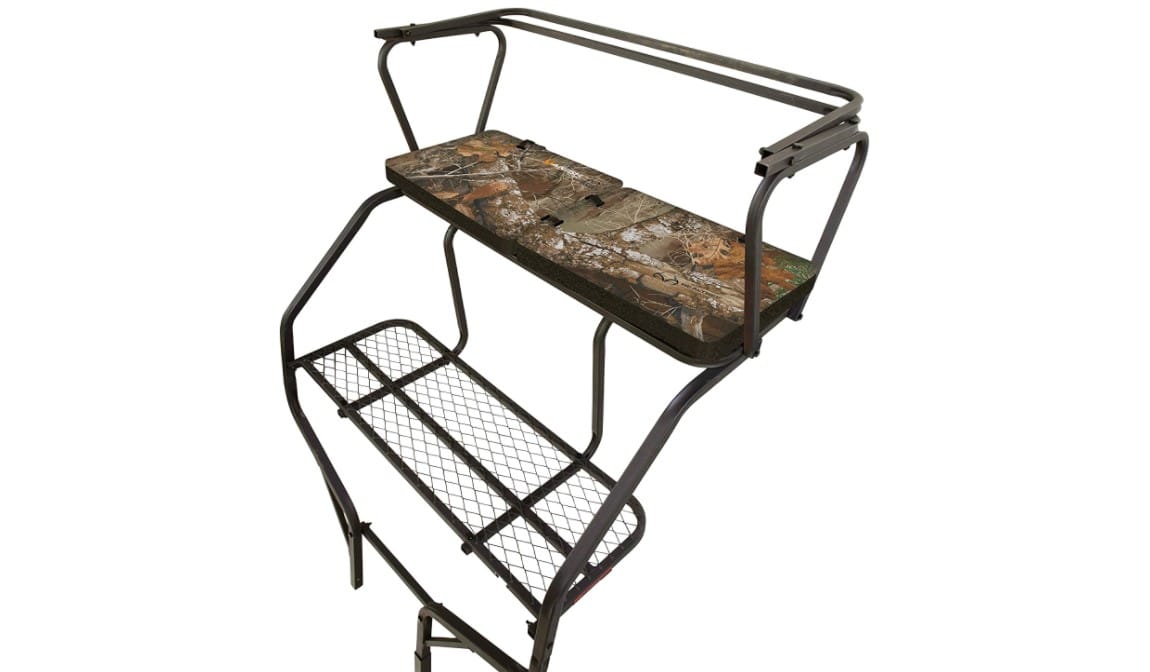 Let's start off our ladder tree stand review with the spacious and two-seater Allen Company Vanish Ladder Tree Stand. And, as you can see, it is characterized by its super wide seat with extra-thick foaming so you and whoever you take with you on your hunting trip can sit comfortably while waiting for your next target.
The seamed seat makes it easier for both storage and transport. It's got a durable ladder plus platform that would give you peace of mind as you wait for your prey. Also, it's super stable that you can easily aim and reduce your chances of missing.
Combined with an ideal bow release and you'll surely hit your mark. But wait, there's more! Another cool thing about this tree stand is that it can then be converted (if you choose to go alone) into a one man seat and turn the other padded foam as a backrest.
It's got extra-long straps and it's got laminated and waterproof tops. Oh and we forgot to mention, that it camouflages rather nicely on a variety of trees.
Pros
Stay stealthy at all times
Great for long trips
You can bring a buddy with you or even your kids
Wide and spacious
Easy to transport and store
Cons
It's very affordable but don't count on it to last long
7. Muddy Skybox Deluxe 20 Foot Tree Stand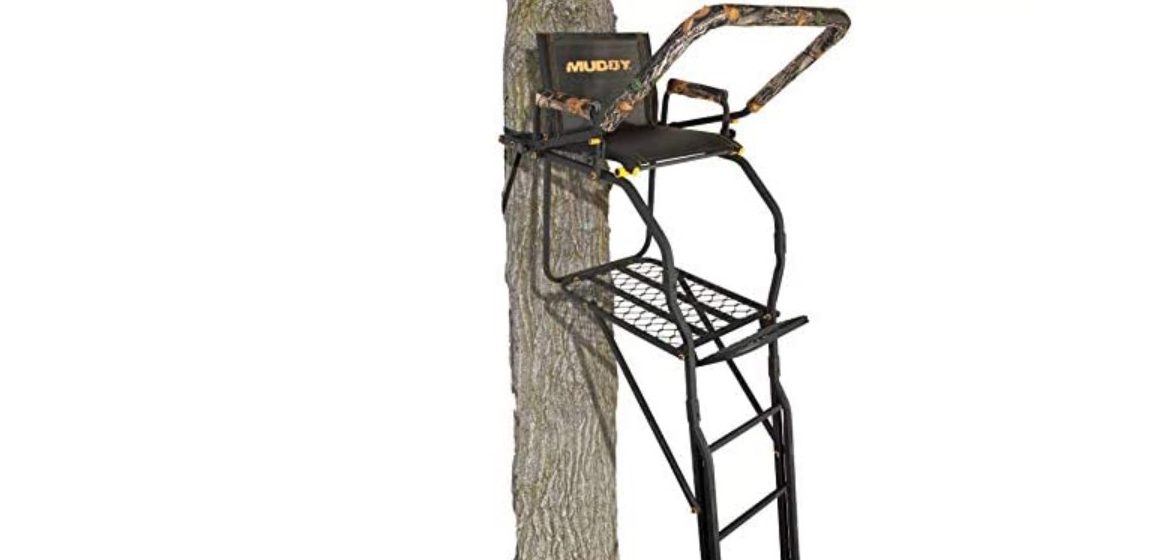 There are a lot of factors in outdoor hunting trips that you can't control. But at least with this super-adjustable Muddy Skybox Deluxe 20 Foot Tree Standyou can customizer it that in such a way it will sway the odds on your side a little bit.
This ladder stand can be adjusted to fit your height requirements and to keep you steady as you aim and shoot. The durable steel material that it's made out of is designed to not come in contact with any of its parts so no matter what activity you do, it should stay quiet.
Don't worry about comfort too as it's got a Flex-Tec sling-technology suspension seat that's sure to keep you secured atop of it. The shooting rail is padded with of course, as mentioned, height as well as depth adjustments. You can rest easy on top of it for sure while waiting for your next target.
Pros
Simple yet effective design
Comfortable
Durable construction
Easy to setup and adjustable
Noiseless and camouflages nicely
Cons
This is just a tad pricey
8. BIG GAME Hunter HD 1.5 Treestand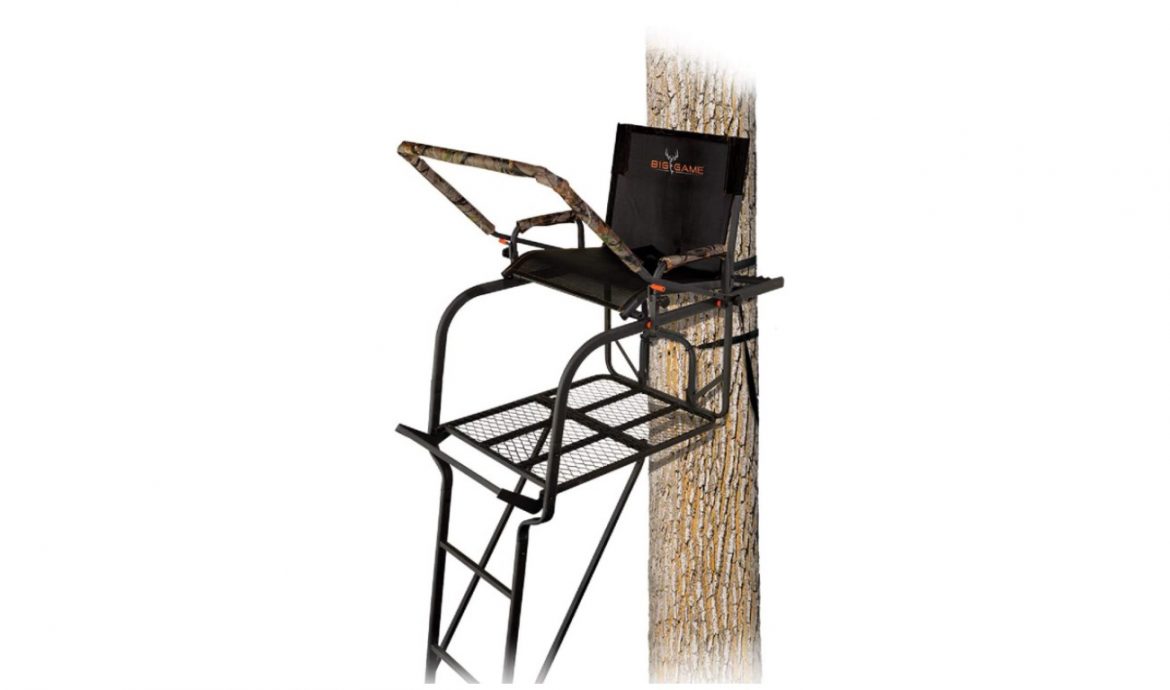 The next entry on our ladder stand review is BIG GAME's Hunter HD 1.5 Treestand. This is another one of those ladder stands that are designed with simplicity yet gets the job done and pretty good-quality to boot.
It's got a removable, adjustable, and well-padded shooting rail that you may flip up should it get in your way. Then you may aim and shoot your target securely and with stability on its platform.
The seat is wide enough and foldable. They call it the Flex-Tek seat with contours to the legs as well as back for utmost comfort. You may have a wide stance as you aim and shoot with your bow on this platform.
It weighs 61 pounds and can handle a pretty decent 250 pounds of weight itself.
Pros
Can handle a lot of poundage
Simple yet effective design
Pretty durable
Great value for money
Ergonomic
Cons
Not the stealthiest nor comfortable seat though
9. BIG GAME Guardian XLT Two-Person Ladderstand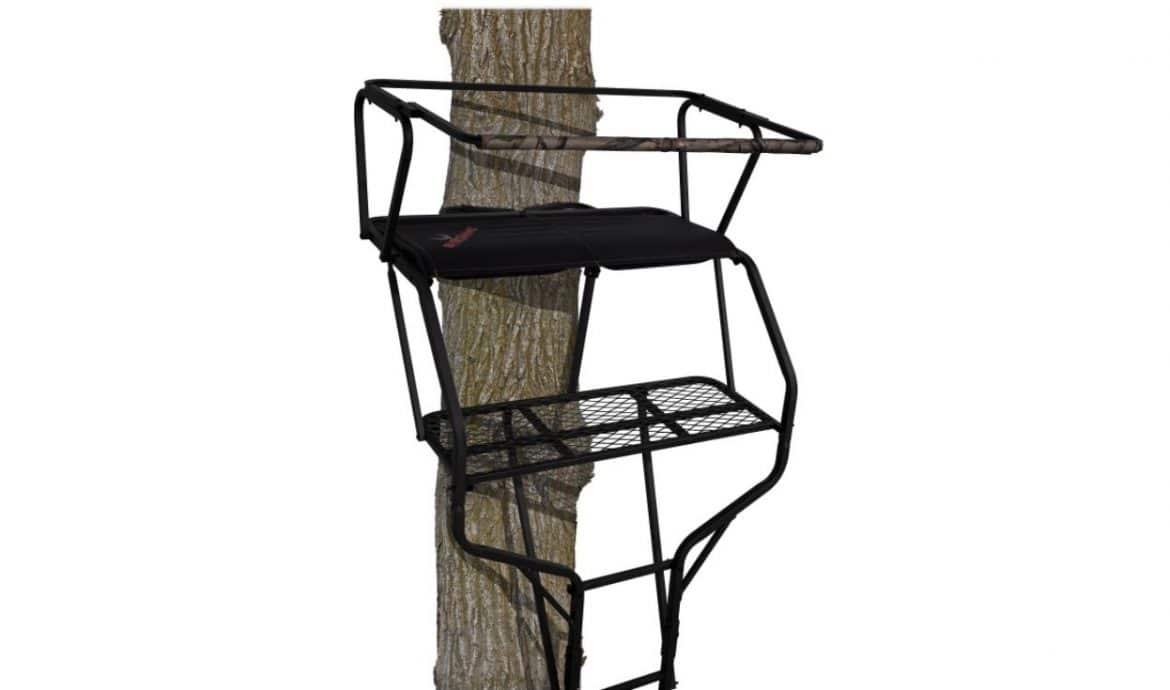 The BIG GAME Guardian XLT Ladderstandis another two-person tree stand that we are featuring on our list. It's 18 feet high and has a wide enough space so you or a buddy can hang out and wait for your next prey.
It's got a flip-up shooting rail so you may adjust it according to your aim and the seat is cushioned enough to keep you secured and comfy. This tree stand only weighs 53 pounds even if it is for two grown men.
That makes it easy to move around should you need to latch from one tree to another. It's relatively easier to transport and at the same time, quite easy to store. You have your safety harness, a ratchet plus stabilizer strap, and it's made out of steel.
It comes in a sleek black color and it's pretty noiseless.
Pros
Relatively stealthy
Durable build
Easy to setup
Lightweight
Stable platform plus nice strapping/harness design
Cons
Not the most comfortable nor wide two-person tree stand out there
10. X-Stand Treestands the Comrade X 18 inch Two Man Ladderstand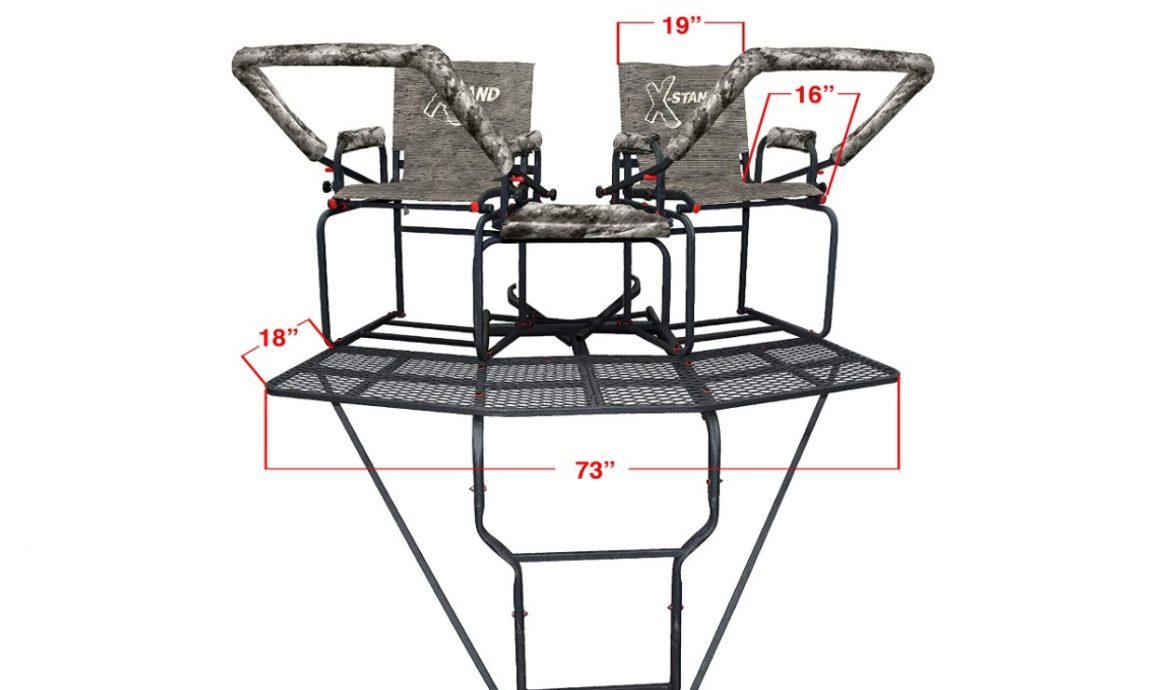 The penultimate entry on our best ladder stand review is none other than the X-Stand Treestands the Comrade X 18′ Two Man Ladderstand. This is another two-person tree stand but this time it's got a relatively unique design.
It's super-wide and spacious and yep, you and your buddy will have each of your own seats. You two will have separated seats and an ultra-wide platform to use for aiming and shooting your targets.
It is super safe with the jaw system that keeps it secure on the ground. The V-shaped platform is solid and stable enough to keep you both secure all the time. The helix oval tubing system then adds to this ladder stand's durability and strength.
Pros
Very spacious
Very comfortable for both of the users
Stable and secure
Relatively durable
Great value for money
Cons
Not so easy to setup or transport
Best ladder stand for bowhunting buying guide
Here are some of the important aspects that you should watch for when you're out looking for a good quality ladder stand to use when you're going out bow hunting.We must be vigilant of these aspects to ensure our safety, efficiency, and effectiveness as we hunt.
Strength
You need to make sure that the ladder stand of your choice is strong to the core. Aluminum is one lightweight yet strong material while steel is super-durable and is just meant to last for a long while.
You need to make sure that the material of your ladder stand can properly support everything including you, the seat, and the entirety of the platform.
Stability and safety
What's the point of having a ladder stand if it can't be stable enough to support you and keep you steady and you hunt game, right? Ensure that your choice of ladder stand won't slide and should attach to a tree effectively and easily.
Make sure that the joints can get locked into specific points of the tree easily and that it's got good quality welding. Precision and a strong frame are key here that's why you shop for only trusted and reviewed products like the ones above.
These qualities will also ensure that you are safe on top of the ladder stand. Armed with some safety features like a harness you should be good to go.
Comfort
Some ladder stands are comfortable in the sense that they come with a nice seat and the platform overall offers relaxation. Get one that is padded nicely.
Enough space
Of course, get a unit that is wide enough to support you. Get a platform for two people if you desire to do so. Make sure that you can move around properly and that you won't be restricted that in such a way be detrimental to your task at hand.
Other Considerations
Make sure to consider noise reduction features, cable retention, and also that the ladder stand of your choice can be installed or set up properly and easily.
A highly-portable ladder stand is a huge plus.
You may also interested to check our single bow Barnett Raptor Pro STR Review for batter hunting experience.
Frequently Asked Questions
Question: Any tips on utilizing a ladder stand properly when out bowhunting? Are they truly safe?
Answer:Ladder stands are pretty straightforward tools that you can use to your advantage. All you have to do is to ensure that you've set it up properly so you are safe and sound atop of it. Also, make sure that you wear your safety harness so you don't risk falling from it especially when you're in the midst of an intense hunting game. You might just take your mind off of the fact that you are indeed on top of a ladder stand and hurt yourself.
And yes, the consensus is that a ladder stand is safe and effective.
Question: Anything else that I need to know about the ladder stand?
Answer:You need to make sure that you install the ladder stand for bowhunting at the ideal height and tree. Too tall and that will affect your clarity and precision. Too low and that will affect your needed range. A tree that stands about 17-20 feet tall is just about right.
Also, make sure to maintain your ladder stand properly, try to prevent rusting, and take good care of it from the elements so you won't waste your investment. Also, research to improve on your camouflaging if that's needed.
Question: Any bowhunting advice?
Answer: For beginners, it is important to practice low-pressure hunting techniques. That means to not spook the dear early on. Make sure to plan, target bedding to feeding routes, and learn how to stalk the does to get a prized buck.
Also, be sure to practice using your senses especially your ears. Use a ladder stand and master the art of stealth to be an effective bow hunter.
Question: What are other tools that I need to effectively go bowhunting? Any safety tips?
Answer:Aside from say, a ladder stand, what are other tools that a bow hunter must always have? Well, for starters, you need to make sure that you have your archery accessory box to keep all of your tools in with.
Next is that you need to make sure to have your archery Allen wrench with you at all times. Have a bowsmith, bow tuning kit, digital bow scale, pro-archery pliers, and Bohning mini-server too. Also, it would pay to have an economy vise with you at all times.
As far as safety tips go, you need to be focused and always put your game face on when out bow hunting to prevent any mishaps or injuries. Always, carry a first aid kit with you, water, and any safety tools like fire and bug repellant kits at all times. GPS, flashlight, and cellphone are also must-haves when going out on a trip.
Learn how to use these gears, find a good tree for your ladder stand, and of course, observe good hunting practices.
Conclusion
There you have it, some of the best ladder stands for bow hunting. These tools will help you experience a good hunting trip. Picking a good one is essential not just for its functionality but also for your safety when out in the woods hunting.
Having the best available tool at our disposal at all times is one huge plus for our chances for success. And so let's not disregard any and try to get our hands on the best available and what we can afford.
Durability, effectiveness, and comfort are also some of the aspects that the product we listed offers. So stop thinking twice and go grab one and be sure to ready at all times. Follow our advice read on our know facts and you'll reduce your risk of failing.
Stay safe and ENJOY!