Welcome to our Intex Explorer K2 Kayak Review here we will discuss in great detail the features, pros, cons, and reasons why you should get your hands on probably one of the most bestselling, popular, affordable, and reliable inflatable kayaks in the market today.
Now, that was a lot of adjectives for one tiny boat but we assure you that this product is legit and is worthy of all the praises that it's been receiving. It's an innovative product from a brand that works on further advancing kayak technology and goes at it with a passion.
So if you're excited, we too are excited to share with you the good news and our experience with this awesome inflatable boat. Read on for our comprehensive Intex Explorer K2 Kayak Review.

Quick Over View | Intex Explore K2 Kayak Review
Only remember not to pack a lot for the boat may allow enough leg room it won't have enough space for heavy luggage. It's got a decent weight capacity though of 400 pounds.
Again, we reiterate that this is not a hard shell kayak so it's not meant for rougher rides or waters. It's pretty thin so it's meant for more careful usage.
As far as disassembling and transport is concerned, you won't' have any issues with it as it's easy and fast to deflate with its air chambers and valves and you will fit everything inside the carry bag to be transported in your vehicle.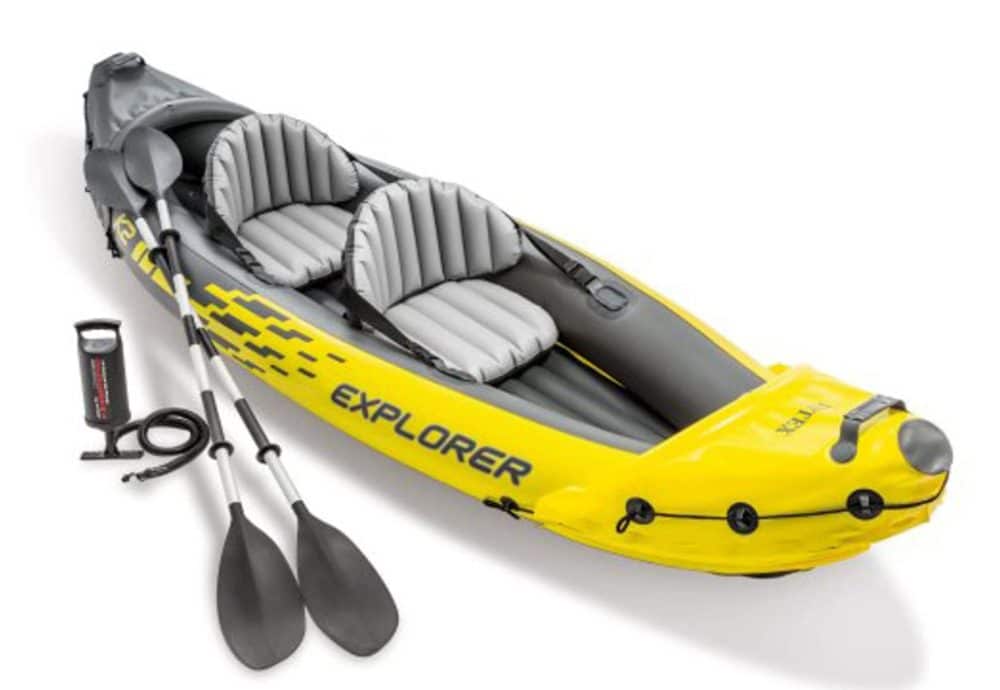 What's in the box? (Specifications)
Inflated size: 10 feet 3 inches X 3 feet X 1 feet 8 inches
Weight: 30.60 lbs.
Weight capacity: 400 lbs.
3 air chambers
High-output pump
2 paddles: 86 inches
2 inflatable seats with backrests
Removable skegs with extras
1 boat set
Carry bag and a repair patch
Highlighted Features
Heavy-duty puncture-resistant vinyl
Rigid inflatable I-beam flooring
Quick inflation and deflation Boston Valves
Standard directional skegs
2 person capacity
Bright yellow color for high-visibility
Removable seats
Grab line available on both ends of the kayak
Recommendations to Consider Before Ride on Intex Explore K2 Kayak
Consider wearing a life jacket and put all your essentials in a backpack when riding it. Also, use a dry bag that's compact for more convenience on your trips. It would be great idea if you can wear water shoes. I will help you to keep yourself comfortable. Before jump to Intex Explorer K2 Kayak review, let's know bit more about it.
Also, take note that Intex also sells their own version of a 1-person kayak and also what they call the Intex Excursion Pro which as the name implies, a 2-person upgraded version of the Intex Explorer K2 Kayak. Of course, the Excursion Pro will come with thicker material and more features but is also more expensive as expected.
Overall, this unit is better than what we expected. Convenient, affordable, simple, innovative, and reliable. But it's not in any way meant for heavy-duty applications. Use it accordingly and you won't regret your investment in it.
What are people are saying about it?
You've read about the Intex Explorer K2 Kayak review and all of our thoughts about it good and not so good. But now, for full disclosure, we researched what other users of this inflatable kayak have to say.
The common comment about it is that it's a much better kayak than what's expected. People are satisfied with it mainly because of its price point and that it's a nice kayak to take out for easy riding. They also say that it's pretty sturdy for its price.
People are even recommending that if you see this kayak sold at $100 or less then you should grab it right away for that's one great bargain. Also, if you're not looking to buy a heavy-duty kayak then this boat is for you.
It's perfect for kids, novice kayakers, and for a family to enjoy. This should be your first inflatable kayak but it's never meant for serious water adventures. Don't expect for it to last very long either. People are also saying that it holds air rather well and that the deflation process is quite easy as well as when it comes to transporting it.
You only have to be careful with it as it is not the most durable kayak as expected with its price.
PROS:
Very easy and quick to setup
Great value for money
Very affordable
Features, convenience, and reliability way more than expected for the price
Highly adjustable and flexible kayak
Spacious and comfortable to ride
Good color scheme
Water release valve is a great add-on Popular, bestseller, and high ratings online
CONS:
Not a very heavy-duty kayak
Meant only for small bodies of water
Not for extreme adventures for sure Durability is mediocre
Intex Company Profile
If it inflates, deflates, and floats then you can be sure that Intex will have a product like that. This company has always been concerned about fun, family, and quality.
From hello springs top above the ground pools, Intex has got it all. They also sell, among their growing catalog, floaters, toys, pure spa, boats, as you already know, and airbeds. They also produce and distribute all sorts of air furniture as well as something simple yet useful like air pumps.
The brand has always been a champion of affordable yet good-quality products.
What are the top brands for Kayaks today?
If you're looking for some other high-quality inflatable kayaks then you can go ahead and check out the Sea Eagle 330, a 2-person kayak with also high-ratings from its buyers. You may also check out the Itiwit x100+ and the stylish AE Advanced Frame Convertible. These are all top-quality products in their own right with various innovative features onboard.
As far as other top kayak brands are concerned you may go ahead and also check out Lifetime Products, Dutch land Plastics, Best way, and Old Town Canoe Company as some of the best in the business.
Take note that not all the time expensive means top quality and affordable means unreliable.
Why should you buy an inflatable kayak instead?
Why should you purchase an inflatable kayak instead of a traditional hard-shelled boat? This is one common question especially if you think about the obvious difference when it comes to durability. Well, it may be obvious to some, but if you study an inflatable boat or kayak closely then you'd know that it's not as brittle as one thought it'd be. Here are a few reasons why you are better off with an inflatable boat.
Convenience
We'll roll a couple of important aspects of an inflatable kayak into one category. They are lightweight and compact. That means that they are easier to maneuver, transport, setup, and perfect for beginners. It's also a top choice for expert kayakers.
Also, since it is compact, it's easy to inflate, deflate, transport, and store. Very convenient. If you want to instantly go out and ride the waters on a bright sunny day, then you can go ahead and do so with an inflatable kayak.
Reliability
An inflatable kayak is practically unsinkable that's why it's perfect for casual kayakers or beginners. Some would even say that it's more reliable and stable to ride than hard-shelled kayaks. That's probably up to debate and would also depend on skill and experience.
Nevertheless, inflatable kayaks aren't far from your usual boats when it comes to safety and security out in the open water.
Practicality
It's also no secret that inflatable kayaks are the more inexpensive option when it comes to boats meant for all sorts of bodies of water. Also, they are quite durable, not as frail as one would think. Worthy of your investment for sure.
Most of all, inflatable kayaks are versatile. They can be puncture-resistant, can bounce off rocks, and can take on multiple classes of rapids depending on the quality.
Kayaks come in multiple varieties. Fishing, recreational, whitewater, solo, or tandem like the Intex Explorer K2 Kayak.
Dos and don'ts when kayaking with Intex Explore K2 Kayak
We would like to end this article with a few tips on kayak safety. Please observe the following:
Always make sure someone knows where you are when you're going kayaking or boating.
Every time wear or bring with you a buoyancy aid, don't be too overconfident about your swimming skills.
Always bring water, an extra layer of clothing, and appropriate food with you.
Also, consider the welfare of others in the water when kayaking, be considerate.
Always check the weather forecast.
Be mindful of the wildlife in the area.
Final Thoughts
It's important that you pick the right product or in this case boat if you want to make the most out of the experience and adventure you are going to take it on. Remember, only go for reliable products with high ratings and reputation for you are putting yourself at risk if you don't.
Injuries and accidents can be prevented preemptively and that starts with choosing the right kayak for your trip. May it be for leisure or for serious water adventures you need to make sure that you're riding one reliable boat.
Inflatable boats are THE top choice nowadays for their convenience, affordability, and reliability. So if you're going to pick one and on a tight budget, go for the Intex Explorer K2 Kayak!
You won't regret it.