Bow stabilizers can bring about a lot of benefits to your hunting game. Remember, some will tell you otherwise but choosing the best bow stabilizer for hunting that fits your style will elevate your experience to another level overall.
If you know how to use it then you will enjoy accuracy to your shots like no other. If it gets intense it will be there for you and give you the proper advantage. The real hunters know this and so should you.
Bow stabilizers for one, are great to give you that consistent shot and that's really important especially if we get tired or lose focus. So let's take a look at how it works, how you're going to take advantage of it, and of course, some of the best products available for you today.

About a bow stabilizer and necessity of your hunting
Bow stabilizers come in all sizes and setups but they only do one thing, they will help reduce vibration as the archer's arrow is released and will then promote stability for the bow for the inertia is consequently increased.
Vibrations can do a lot of harm to your shots and without such stabilizers, you will have first an unstable aim so you will find it hard to keep your bow stationary. And then, there's the vibration right after you launch said arrow.
Think about it, these modern hunting bows, use a huge amount of strength to propel these arrows. That's to defy the effect of gravity over a hundred times and then eventually hoping to hit your target.
So in essence, stabilizers will increase the overall rotational inertia to make your bow more stable (harder to move or twist) or torque while you draw and launch an arrow. This enables rock-solid consistency from your bow.
Your sight pin will settle faster too. Great stabilizers also come with a dampening system or what you call a coupler. This is the feature that will eliminate shot vibration as well as noise, so you'd be more comfortable and accurate.
There are long and short stabilizers and we will discuss them further later on and on our product reviews. You need to also learn how to configure its weight and find the best length suited for your needs. Take a gander at some of the best bow stabilizers for hunting in the next section.
Best Bow Stabilizer for Hunting Buyer's Guide
How do you choose the right bow stabilizer for you? If you take note of these aspects before purchasing then you might just get your hunting game going or elevate it.
Check your bow
Make sure that your bow in the first place can be fitted with a stabilizer. Not all can be so be sure to check with your seller or store if you're not familiar with the setup. If you have the funds, then maybe you can buy another bow instead that can accommodate a variety of bow stabilizers so you'll have more options.
But by inspection, how would you know for yourself that your bow can be fitted with a stabilizer? Well, right at its back at the belly part of it, it should have an area where you can fit one in, stabilizers are screwed into your bow.
But do take note that most recurve as well as compound bows will have such insert area. It's the old bows that would most likely not have any. Be sure that yours have one so it won't be a waste of investment.
Weight and length (Short and long stabilizers)
We mentioned in our introduction that figuring out the weight and length of your stabilizer is key to taking full advantage of it, right? That's correct.
As for the weight, you need to remember that in general, a heavier stabilizer gives you more heft thus giving you more balance for your shot. For example, if you do archery, then some amount of weight would probably do you good.
But take note, that if you are out hunting, this extra weight can mean that you will strain your arm or hands faster. So for bowhunting, we advise that you get a lighter stabilizer but for target shooting, you may go for heavier ones.
What about the length? Well, this all plays out nicely with the weight and it will all make sense. If you're a compound bowhunter then you'd need something short as these types of stabilizers dampens noise and effectively reduces vibration.
How short is short? Well, these are stabilizers that are about 4.5 – 10 inches long. So, what are long stabilizers good for? Longer stabilizers are actually known for their consistency and stability. They just give you accuracy as well as on-target assistance.
These are the ones that are over 10 inches and can go for 30 inches in length. They are more popular for target shooting or archery. While the former is meant more for hunting.
Please do take note that either type is not necessarily bad for their non-strengths, they are just not the ideal choice and we recommended them as such.
Pretty straightforward buying guide to remember, huh? Yep, bow stabilizers aren't as complicated as other products.
Best Bow Stabilizer for Hunting Product Reviews
1. Trophy Ridge Hitman Stabilizer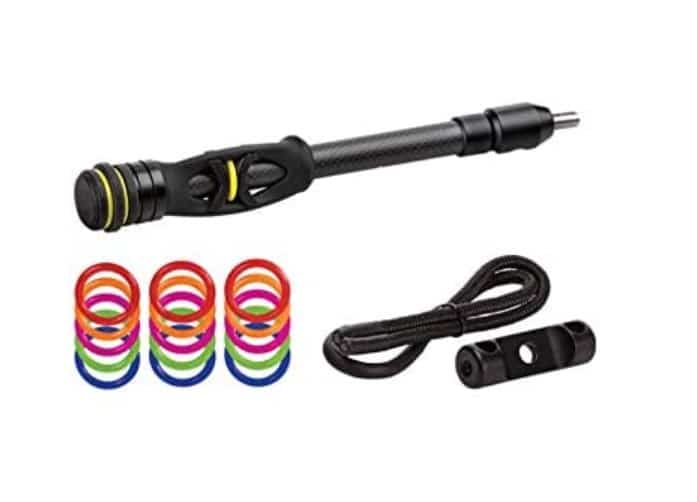 The first entry on our best bow stabilizer review is none other than the innovative Trophy Ridge Hitman Stabilizer. This stabilizer is characterized by an easy to attach and detach mechanism that's going to be pretty convenient when you are out hunting.
This is one effective stabilizer to keep or improve your bow's balance as you hold it at full draw. It is available in multiple sizes from 6 to 12 inches and it's got a carbon design.
It's very convenient to store as well as transport and we know how valuable that will be if we constantly move from one place to another. It weighs 6.5 ounces with 2 1 ounce removable weights.
It also comes with a mounting bar, wrist wrap, and multiple colored rings so you may personalize it and much your bow's aesthetic. This is one of the easiest to use stabilizers right now and will not overwhelm any beginners at all.
Pros
Very convenient to utilize
Easy setup and straightforward design
Pretty durable stabilizer
Great value for money
Versatile
Cons
Not as adjustable though compared to the others on our list
2. SAS Archery Aluminum Bow Stabilizer for Hunting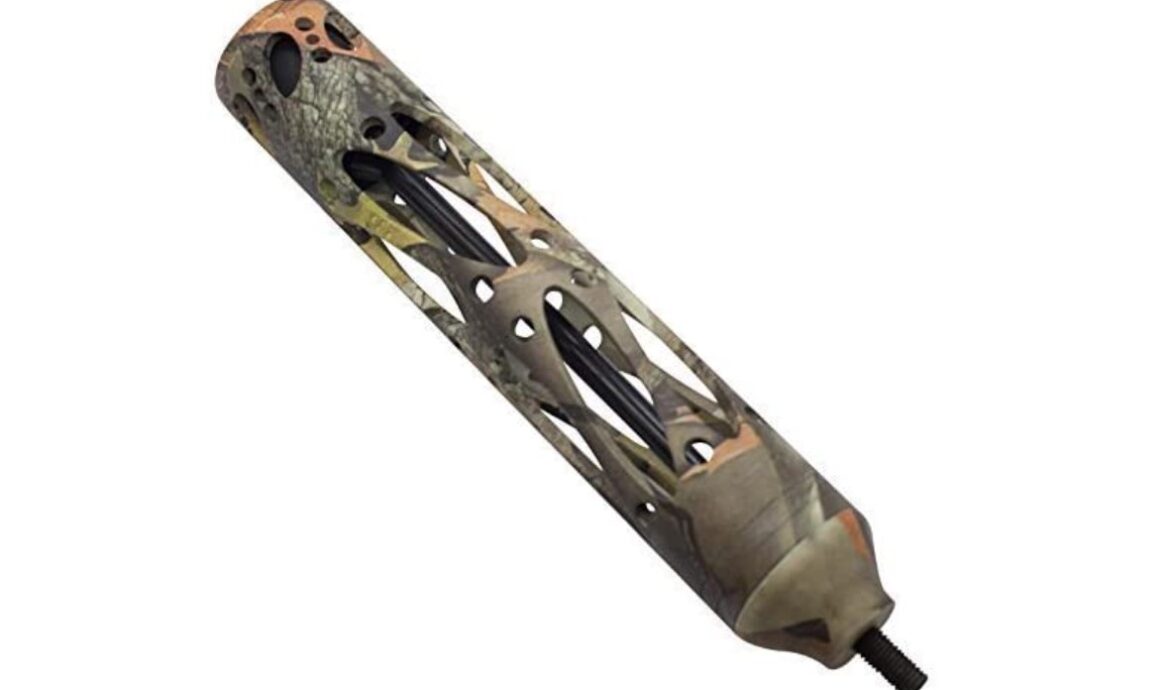 Next on our list is the affordable yet effective SAS Archery Aluminum Bow Stabilizer. A pretty underdog brand but comes up in a lot of lists due to its quality. This one is very effective when it comes to noise dampening as well as reducing vibration that would otherwise affect your shots greatly.
Pretty ideal for hunters. Its dampening system is right around the center of its design and will provide additional stealth while all this time making sure that you get the right balance you need for relatively more accurate shots.
It is also quite easy to install and it's made with highly-durable material for quite an affordable price. The aluminum construction is pretty decent and will not let you down when the going gets tough.
Pros
Meant for tough hunts
Dampens effectively
Great price point
Relatively durable
Good balance
Cons
Not a very versatile product
3. Trophy Ridge Blitz Stabilizer Black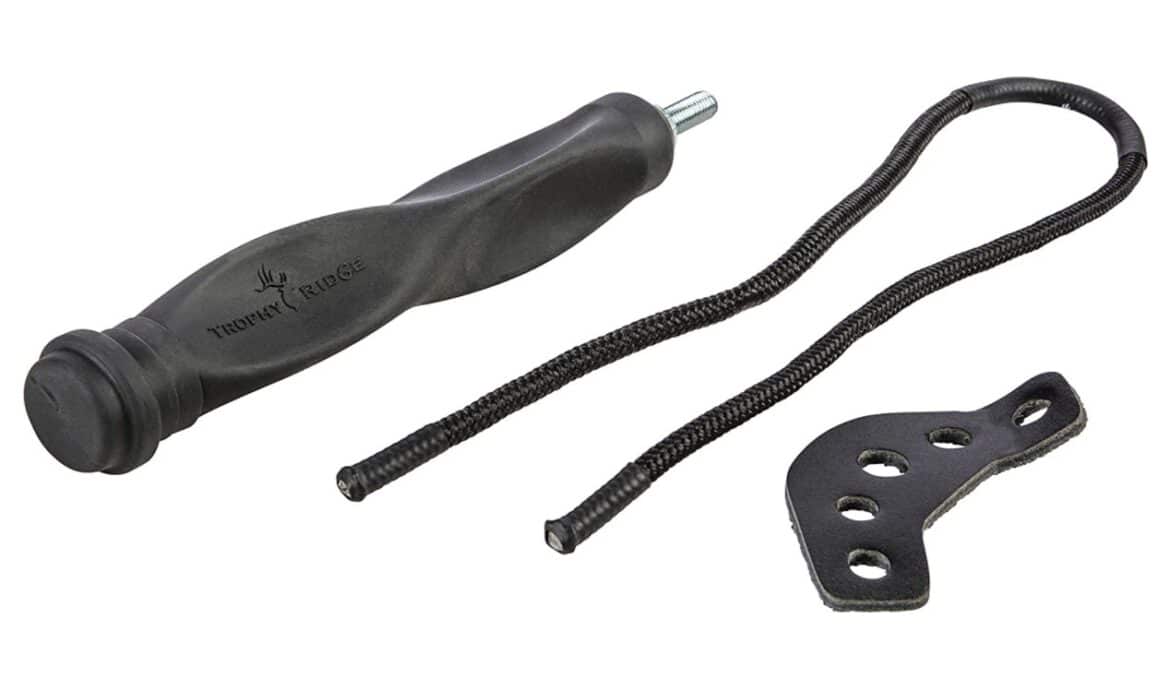 Third on our list is the Trophy Ridge Blitz Stabilizer Black. This one also comes in a pretty good price point and it's meant to dampen noise and lessen if not eliminate vibration effectively.
Very simple design too and of course, it is very functional. It comes only in black and it is tough and meant to last for a few hunting trips. If you're not too picky with the brand then this is one great buy and actually much like a hidden gem.
It will not come with a lot of other fancy features for a stabilizer but it gets the job done. That's the bottom line and all you'd ever need.
Pros
One of the best at its price range
Tough and versatile
Effective dampener
Good balance and weight
Easy to setup
Cons
Will not overwhelm you with features
4. Cartel Doosung Carbon Pro New Generation Stabilizer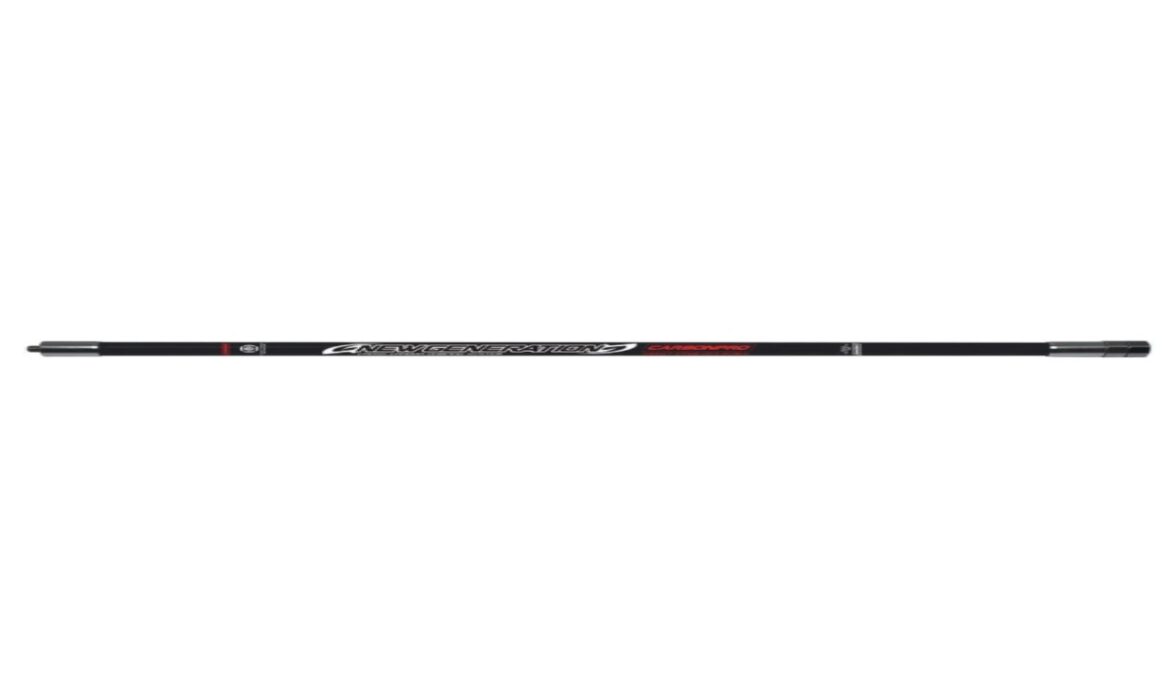 We do have something for recurve bow users and it's the Cartel Doosung Carbon Pro New Generation Stabilizer. Of course, we've taken into consideration that not everyone that would check this article out is all compound bow users.
This one in particular specifically made for recurve bows comes with a parallel design, made out of high-quality carbon fiber, and comes with an effective vibration dampener as well as end weight for that much-needed balance.
This is meant for those who are in archery and are looking into getting into some competition ormaybe just plain old target shooting practice. This too is much longer than most of the stuff that we've reviewed and will review in this article. This comes at lengths of 26, 28, and30 inches.
It also adds a great amount of both forward as well as backward balance, exactly what you would need for target shooting. Very effective stabilizer and if you're into archery this should be on top of your list.
Pros
Adds just the right amount of weight for needed balance
Meant for accurate target practices or shooting
Competition-grade quality
Durable design
Effective dampener for a recurve bow stabilizer
Cons
A tad expensive and heavier than most stabilizers
5. LimbSaverWindJammer Bow Stabilizer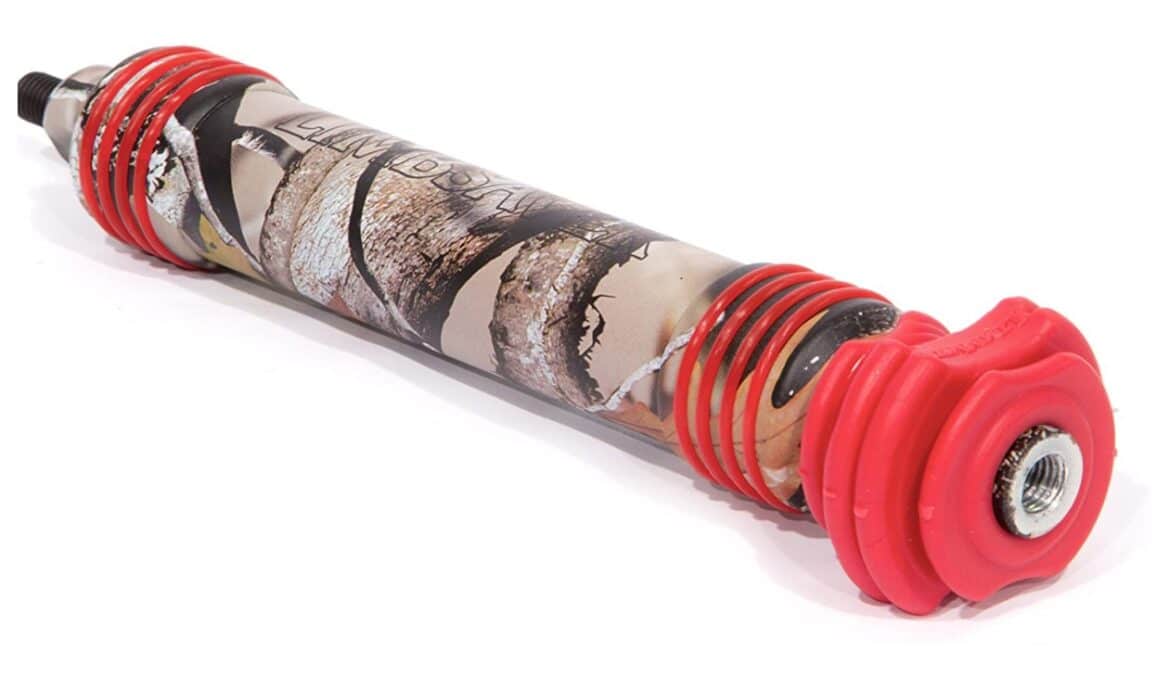 The LimbSaverWindJammer Bow Stabilizer is also one of those great value-for-money products on our list. It's made out of aluminum and proprietary NAVCOM material so you know that it is durable and one of the most well-thought-out products on our review as well.
This stabilizer is very effective in adding stability to your bow and your shots and what makes it ideal for hunting is that it's one effective noise dampener. It's also quick and easy to setup and its versatility is off the charts and it will work just as well in the harshest of weather conditions.
It's got just the right amount of weight and needed length to do wonders to your hunting experience.
Pros
Very versatile design
Durable
Functional even in bad weather conditions
Great price point
Just the right amount of balance and length
Cons
Seems like not a lot of it is manufactured
6. TRUGLO Tru-Tec Carbon Pro Archery Stabilizer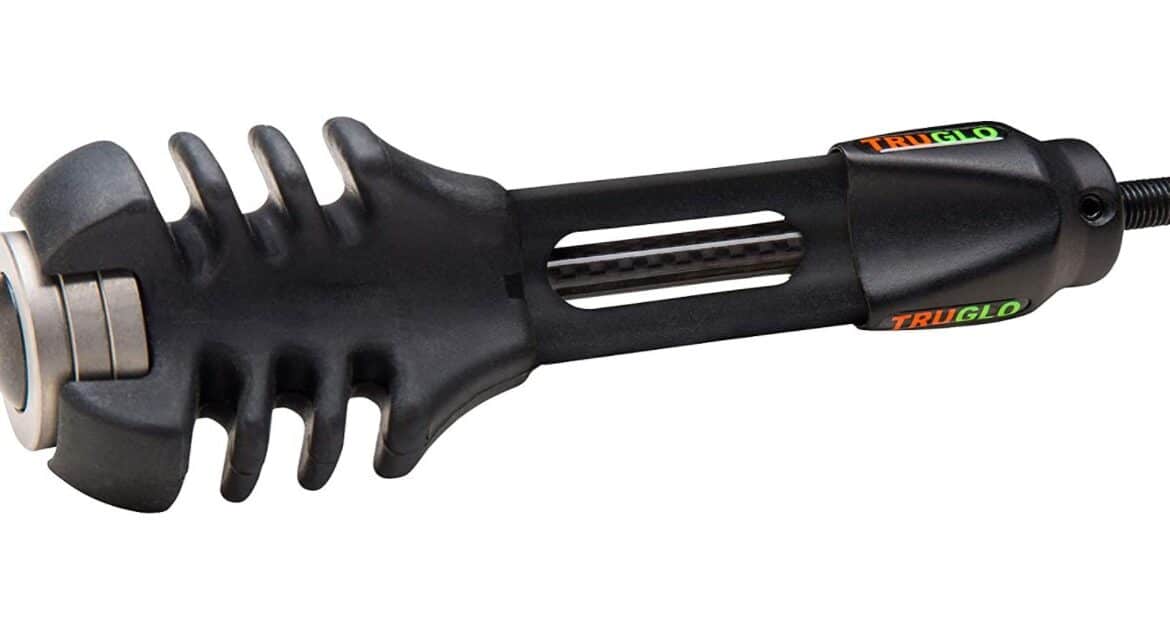 The TRUGLO Tru-Tec Carbon Pro Archery Stabilizer is like a dark horse in this tough competition of bow stabilizers. It's a bit of an underdog too but comes with great features and is really quite effective.
It's got superior strength for it is made out of high modulus carbon fiber. It's got a carbon fiber composite exoskeleton and a tri-foil shape for utmost rigidity. It's got adjustable weight suspensions that will help out with the dampening effect.
Vibration reduction and noiseless operation a guarantee. This has a universal fit and is meant for performance bows.
Pros
Tough design, highly-durable
Great value for money
Versatile and functional features
Great fit for a lot of bows
Innovative design will open up new avenues for your hunting needs
Cons
Not the easiest to adjust
7. Trophy Ridge Static Bow Stabilizer for Hunting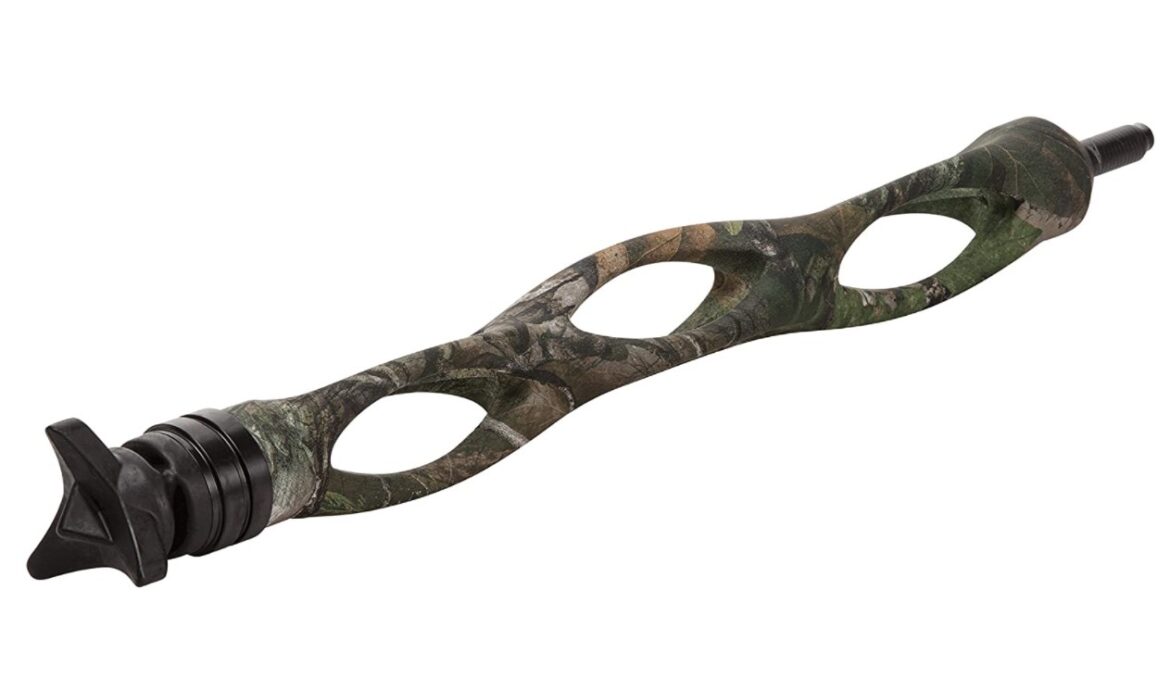 The Trophy Ridge Static Stabilizer has a lightweight design and it comes at 6 inches. If you look at it, it actually looks unique but that's no accident for its aesthetic is a product of innovation to cater to our hunting needs.
Its somewhat hollow design allows for air to pass for steadier shots even in the windiest conditions. As we all know, things can abruptly change when out hunting and there's a lot of elements that may affect our shots. This stabilizer comes prepared for such occasions.
It's customizable to give you a lot of range and the right balance and noise dampening that you'd need. It's made of aluminum so it's lighter but not in any way inferior in terms of build quality.
Pros
Looks unique and will look good on any bow design
Unique construction allows for operation on windy situations
Durable and lightweight so lesser strain
Versatile and very functional
Easy to adjust
Cons
Could use a better dampener system
8. Bee Stinger Sport Hunter Xtreme Bow Stabilizer for Hunting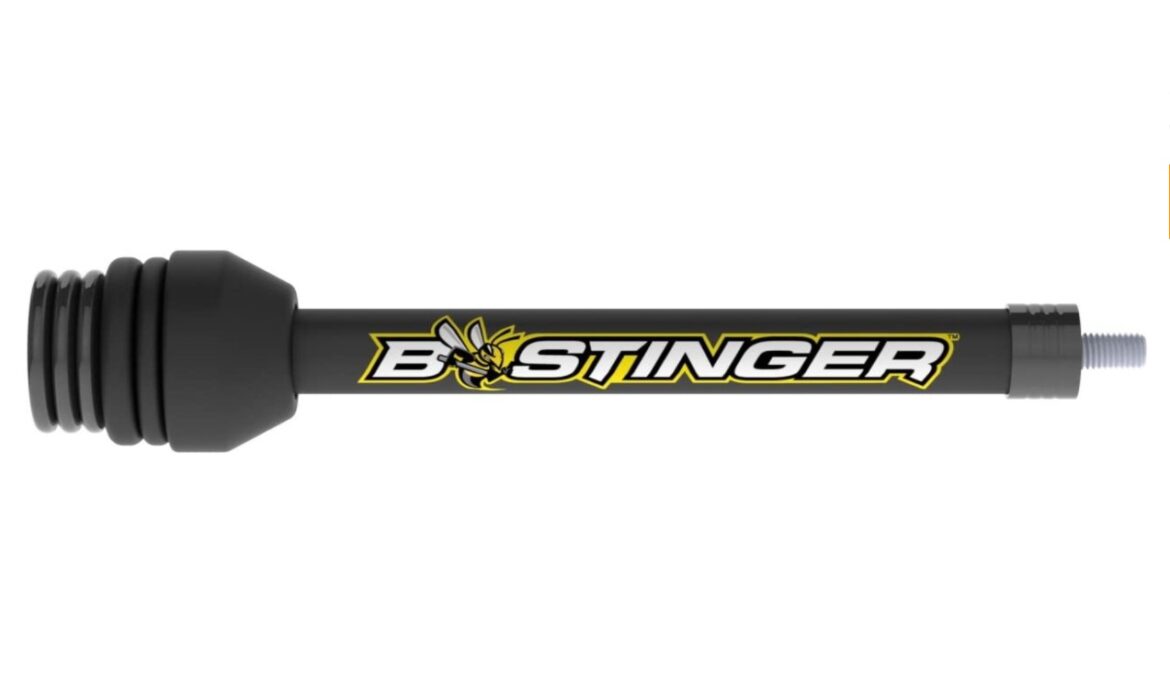 The Bee Stinger Sport Hunter Xtreme Stabilizer is one popular brand and product across the hunting industry. You'd see it on a lot of lists and that's true to the rest of the stabilizers on our list moving forward.
It comes in 3 lengths of 6, 8, and 10 respectively. It's one of the most versatile on our list and it is easy to adjust with 3 1 ounce discs. It also offers one of the best dampening systems in place plus it reduces vibration really well partly because of a large rubber dampener in place.
The carbon fiber shaft ensures its durability and while it is a tad expensive, you probably won't need anything else right after its purchase.
Pros
Popular and a bestseller
One of the best reviewed units on our list
Definitely durable
Versatile and functional design
Easily adjustable
Cons
9. New Archery Products (NAP)Camo Apache Bow Stabilizer for Hunting
The penultimate entry on our list is perhaps our number one pick, the New Archery Products (NAP)Camo Apache Stabilizer. Comes in 5 and 8 inches models weighing 5.5 and 7.5 ounces, this one is perfect for outdoor hunting.
It's made out of carbon fiber and comes in either a black or camo aesthetic. It's one of the stealthiest stabilizers you can take advantage of and reduces vibration superbly. It's easy to setup and use as well so it's meant for anyone interested.
Pros
Versatile design
Great features onboard
Great value for money
Durable
Great aesthetic
Cons
Not a good fit for some bows
10. Bee Stinger Pro Hunter Maxx Bow Stabilizer for Hunting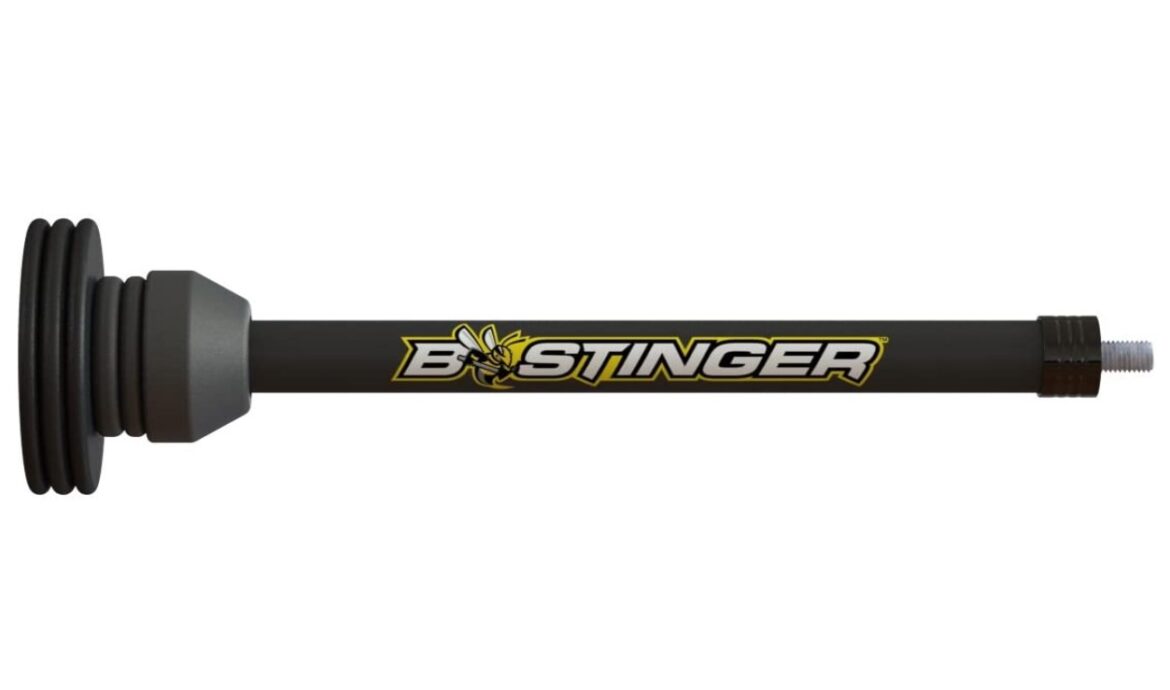 Last but not least is the Bee Stinger Pro Hunter Maxx Stabilizer. This one is armed by great weight distribution and so it is one effective stabilizer. It will keep your shot steady and will dampen any noise.
Any vibration will be significantly reduced and it comes at an ideal length too. Its primary strength is really at dampening your shots so that's why it is best for outdoor hunting fun.
Pros
Best dampener on our list
Great price point
Versatile and meant for tough conditions
Very accurate shots
Good balance
Cons
A step by step guide on how to utilize a bow stabilizer
A great quality bow stabilizer can only go so far. We need to know how to harness it and use it to our advantage so it can truly upgrade our hunting game.
Step 1: Choosing the right bow
Again, when it comes to bow stabilizers, the best step that you can take first is to choose which one is best for you. Take note that you might not get it right the first time and that's all right for that is a common occurrence. Hence, this buying guide is here to help you out.
Again, for target shooting or archery, your goal is to get a bow stabilizer that can help you aim the way you want to. For a hunting bow, the goal is to get as much dampening effect as the said stabilizer. Hint the latter is more flexible when it comes to choices.
Step 2: Use and tie the right peep sight
For a compound bow, employing the right peep sight and setting it up right is imperative. This will enable you to focus properly no matter the lighting condition.
Step 3: Balance your bow and the handheld release
Propping the bow counter-clockwise is the right way to elevate your bow. Also, we advise that you use the stabilizer in conjunction with a good quality bow release mechanism.
Step 4: Make your marks
After balancing your bow, you must make marking comparisons to your cams. This is to improve your visuals and increase accuracy.
Step 5: Choose your arrows wisely
Also, for compound bowhunting, be sure to try heavier arrows. Once you've learned how to aim and shoot the right way, heavier arrows offer much better overall penetration power and the vibration is also successfully decreased if not eliminated.
Frequently Asked Questions
Question: What are front stabilizers, V-bars, and rear bars?
Answer: Front stabilizers are just the type that will give your bow more resistance from movement. Rear backs and V-bars, on the other hand, helps promote left and right balance.
Question: Is the back bar better for bowhunting?
Answer: A back bar just gives you more balance for your shots. Imagine that if you are right-handed then most likely all of your other accessories like quiver, rest, and sight, are all on the right side too. That's a lot of weight stacking and so a well-balanced bow with the help of a back bar is ideal.
Question: What are the top materials used for bow stabilizers?
Answer: Well, you have the durable and reliable carbon fiber material as always. But right now, bow stabilizers made out of rubber are also popular or always have been. Go back to our products and check out what they are made of and pick your preference.
Final Thoughts
There you have it, these are some of the best bow stabilizers for hunting that you can take advantage of today. Not only are these top of the line products in terms of quality but most of them fits a lot of hunting style so we're sure that you'll find what's best for you.
Take note that there aren't any bad products here, only the ones that will or will not fit your needs. They are durable, functional, versatile, and most of all, precise. Accuracy and focus it on the name of the game when you go out hunting, so we better infused that into our game.
These tools will not only help us hunt better but will ultimately enhance our hunting experience. Stay safe and ENJOY!